Designers of color speak out on what Michelle Obama's style has meant to them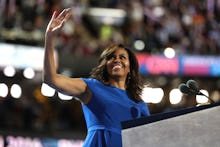 It's an understatement at this point to say that Michelle Obama has had a tremendous effect on fashion. 
From the beginning of her time as first lady, she has raised the voices and profiles of designers of color, like Jason Wu, whose designs she wore to both inaugural balls. There were also names like Tracy Reese, Prabal Gurung, Naeem Khan, Derek Lam and Isabel Toledo, all designers of color she wore frequently throughout her time in the White House. 
At every chance, it seemed, she was championing them. 
For other young designers of color watching this, it felt extraordinary. So Mic spoke with several designers of color about what Michelle Obama's style in the White House has meant them. 
Here is what they had to say:  
Aurora James, creative director at Brother Vellies 
"Michelle Obama has been an amazing role model for so many reasons. Just the idea of seeing a woman of color in that position is a game changer," Aurora James, the creative director of Brother Vellies, said in an interview. "Black girls knowing that they have a value and their dreams are real and not just pipe dreams. I think that it's been amazing that she's been really conscious about what she's worn. We're all obviously going to miss her. Her impact on the world has been so great. We don't even understand the reach in having young girls know they can be anything in this world and I'm incredibly sad to see her go."
"I know she's going to continue to wear emerging designers. In the African-American community, that's not something we thought about before. That was not really a thing that I was asked about or interviewed about and I think she made a point of realizing the importance of that," James continued. "It's definitely a conversation of why aren't their more designers of color? Well that's because we're not going out of our way to support designers of color. She did it in a way that she wasn't shoving it in our face either. She did it on her own accord and I think that's really beautiful." 
Tony Liu, designer at You As 
"Although I'm a menswear designer, Michelle Obama's legacy in fashion continues to inspire me," Tony Liu, the desiger at You As, said. "What is most amazing about her is that there isn't one singular thing that defines great style for her.  She has shown that it does not matter if you wear haute couture or off the rack, established or emerging designer.  She truly supports and embraces the diversity of talent in America."
"Michelle has given so many designers the opportunity to be a part of not only her story, but the country's story," Liu continued. "She has proven that with hope, hard work and optimism, there is opportunity and a place for everyone, regardless of their background. This is precisely the spirit that defines our country and the American dream."
Victor Barragán, designer at Barragán 
"First of all, I feel I'm an outsider. I just moved to U.S. almost two years ago from Mexico City as an creative immigrant that now is trying to get established in this country," Victora Barragán of the brand Barragán said. "Watching so many positive factors about Michelle, the most powerful thing about her is her talking publicly with respectful speeches about tolerance and diversity around the world — not only in the U.S., but with all this she is creating a positive message to new generations."
Other designers of color have also spoken out
In addition to these designers, several others have spoken out about her inclusive legacy, including Naeem Khan, who told Elle: "I really care for our fashion industry — and the first lady was so conscious of that. She would tell me, 'I have to wear every designer.' It was important to her. ... She was so instrumental in giving designers [in the U.S.] the opportunity to become ambassadors. She knew that this would be important for the industry. She was not just getting dressed to look pretty." 
Prabal Gurung, who immigrated to the United States, told Elle: "For the first lady of the United States, who is the most-watched person around the globe, to embrace me, an immigrant from Nepal, and wear my clothes, it was an incredible moment. Not only was she fulfilling my dreams and desires to dress her, it was a message she was sending about inclusion. That gesture impacted so many people around the world, especially people back home in Nepal, who may have thought it was impossible to have that big of a dream." 
In just eight years, Michelle Obama has raised the bar of first lady fashion to incredible heights. We've got a feeling she'll still be a trendsetter to keep our eyes on, regardless of if she's living in the White House or not.