'Super Smash Bros.' Switch Release Date: Nintendo president confirms planned game port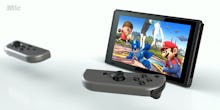 Super Smash Bros. for the Switch was markedly absent from the Nintendo presentation Thursday, but that doesn't mean the game won't make its way to the new portable console.
Few know the official details regarding Nintendo's rumored Super Smash Bros. Switch port, except for the folks within the company itself. But one such employee, Nintendo of America president Reggie Fils-Aime, may have just confirmed it.
Despite Fils-Aime's recent statements, we still don't have official confirmations of a Super Smash Bros. game for the Switch. Please note that the picture above is a digitally altered representation of what this port might look like, and not an official Nintendo image.
Super Smash Bros. Switch Release Date: Confirmed?
In an interview with Time, Fils-Aime discussed the Nintendo Switch's online capabilities, including what kind of friends list features will be present and whether players can reclaim their already-purchased digital games:
"Our overall proposition will not look the same as our competitors. But what we will do, is we will recognize what consumers like about our competitors, we will look to do it in a way that has a Nintendo flair to it. And we will look to make sure that in the end, we've got this robust, online environment that not only works well for our games, like Splatoon and Mario Kart and Smash Bros., but that also works great for our third party developers."
That brief mention along is enough to renew our excitement over the prospect of a Super Smash Bros. Switch game, even if it's not all that much to go on.
Super Smash Bros. Switch Release Date: When will Nintendo bring it to their latest console?
It's clear that the people high up at Nintendo have plans to bring Smash Bros. to the Switch. While Splatoon and Mario Kart have already been confirmed to come to the Nintendo Switch this year in one form or another, the same can't be said for Super Smash Bros. So even with this brief mention of a Super Smash Bros. Switch port from Fils-Aime, the game may not actually arrive until as late as 2018 after Super Mario Odyssey is released.
Then again, it could be sooner. Unlike Mario Kart 8 Deluxe, which adds new features added to the game, Nintendo may choose to bring a simple port of the Wii U game to its new console. Re-releasing the game without any new modes or characters should reduce the amount of time required to develop it. But, to be honest, we wouldn't mind waiting longer for a version of Super Smash Bros. for Switch with some exciting additions.
Super Smash Bros. Switch Release Date: New characters on the way?
If the Nintendo Switch does get Super Smash Bros soon after its March 3 release, there's a chance the console could see some exclusive characters come to its iteration of Smash. 
Rumors surrounding Smash Bros. characters continue to swirl around Ubisoft's Rayman coming to the game. With Rayman Legends confirmed to come to the Nintendo Switch, it wouldn't be out of the question.
Fans could possibly even see long-awaited additions to Smash like the arrival of Metroid's Ridley or yet another Fire Emblem character to help promote the teased Switch title Fire Emblem: Warriors. Though perhaps Nintendo will keep it simple and simply offer new Link or Zelda costumes to promote Breath of the Wild.
We can't say for sure when Super Smash Bros Switch will come to Nintendo's latest console. But Reggie's subtle confirmation of the game should bring fans hope for more ways to play and added challengers approaching.
More Nintendo news coverage and updates
For more info on what Nintendo revealed during its livestream, here's where you can get details on the Nintendo Switch price, release date, pre-orders and battery life. If you're interested in the Nintendo Switch's games, here's info on the new Super Mario Odyssey game, Legend of Zelda: Breath of the Wild, Splatoon 2, Xenoblade Chronicles 2, 1-2-Switch and the goofy boxing game Arms.