ASOS launches plus-size and tall sections for men, addressing a major gap in the retail market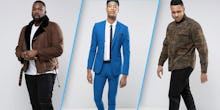 Online retailer ASOS is known for its seemingly endless array of clothing and accessories. Want a dress covered in cat faces? You got it. Want a wallet in the shape of a dinosaur? No problem. Over the years, it's specialized in having a behemeth amount of clothes and options for more specialized sections, from petite to curve to maternity.
Now they're bringing that level of inclusivity to their menswear. ASOS is now offering plus sizes and tall sizes for men, with even more items expected to be added to both sections when they officially launch at the end of February. 
With these additions, ASOS is the first brand among its direct competitors such as Urban Outfitters, TopShop and H&M to launch a dedicated section for plus-size men. 
Prior to the launch, plus-size men and even tall men have been largely ignored by the fashion industry. Big and tall stores have been stereotyped as being outdated and basic, much like plus-size stores for women. And as far as plus-size male modeling goes, well, that's pretty nonexistent too. Though the big modeling agency IMG announced its "Brawn" division last year, specializing in larger men, it's yet to get off the ground. 
So these ASOS divisions really could change everything. 
"We've had this curve collection for a while [for women] so it's been a very obvious thing to look at menswear," an ASOS spokesperson said in an interview with Mic. "That matched with searches online for bigger sizes, knowing what the market's doing and knowing that not anyone is really doing it, it was obvious. There's gaps in the market that made it make sense."
About 200 items on ASOS' website are labeled as "plus" for men, which for ASOS means up to a size XXXXL, including items from ASOS' own plus collection and items from other plus brands that ASOS works with. For the tall section, which for ASOS means clothing fit for men who are 6-foot-3 or taller, there are just over 100 items. 
By the end of February, there will be hundreds more. 
According to ASOS' own head of menswear design, Nick Eley, the goal for these sections was to ensure that the clothes did not feel any different than the clothes ASOS already offers, which are often trendy and marketed toward people in their 20s. That mission extended all the way to even the models they used for these new departments, who are young and diverse. One of them, actually, works for ASOS himself. 
By offering items like bomber jackets and suits, ASOS is effectively rebutting the stereotype that clothes for larger men are outdated and unattractive. 
"It was about making our already fashionable ranges accessible for them," Eley said in an interview. "We wanted the same look and feel as the rest of our clothing, but just made larger. For so long now, plus and tall clothing has often been basic. And I think the more people do it, the more accessible and the more normal it would be."
In order to create collections up to ASOS' standards, designers had to take into consideration overall fit, bringing in models for each additional size to ensure the clothing worked with their bodies, as well as larger table space to cut fabric. 
Also, because they're an online store, they didn't run into the issue of running out of retail space, which allows them to have these sorts of experiments with products. For brick and mortar stores, that's been part of the struggle to expand sizes.
"You just want to be able to offer as much variety to as many people as possible," ASOS's spokesperson said. "It's a ton of work, but ultimately worth it." 
At the end of the day, because of sections like these, ASOS continues to be one of the most inclusive and thoughtful brands. And who knows, maybe these sections will wake up other retailers to the fact that just like there are plus-size women out there in need of cute and fashionable clothes, there are plus-size men out there who want the same.