As thousands gear up for the Women's March, questions of unity, potential for change linger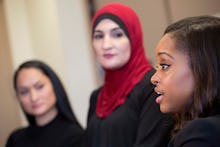 Saturday's Women's March on Washington is mobilizing thousands of people, many of whom will be joining a mass demonstration for the first time in their lives. What the march will actually symbolize, though, and its potential to spark change, remains unclear.
While it has been widely described as a protest of Donald Trump's presidency, organizers have been clear that the event is not explicitly about the incoming commander-in-chief. 
"Trump would like nothing more than to have a large group of people go to Washington to focus on him," Tamika Mallory, one of the march's four co-chairs and the youngest-ever executive director of National Action Network, said in a phone interview. 
Mallory said that she and the other chairs — National Justice League NYC co-founder Carmen Perez, Arab American Association of New York executive director Linda Sarsour and New York-based fashion executive Bob Bland — have no intention of indulging Trump's "narcisistic behavior" with an anti-Trump event, choosing instead to put their efforts toward enlisting "new people to pick up the baton and carry it on," she said.
"The thing that's most tangible and most important in terms of where we need to go is that we will ensure that new blood and new energy is infused into the movement," Mallory said. "A renewed spirit in order to deal with what we face ahead."
"The march is not being called the Women's March on Trump," she added. "It is being called the Women's March on Washington because the halls of power are located in Washington, D.C."
The latest estimates suggest as many as 400,000 could converge upon those halls on Jan. 21. Launching from the intersection of Independence Avenue and Third Street in Washington, the event aims to be the rising tide that lifts all boats. The march espouses women's rights — with the understanding that "women have intersecting identities and are therefore impacted by a multitude of social justice and human rights issues," as the organizers wrote in their official platform. 
The idea, in other words, is that equal rights can't exist for one unless they exist for all, regardless of gender, race, orientation, income, profession, education, age, ability, religion or origin. 
At a moment when power looks to be almost unanimously in the hands of wealthy white men, activists say speaking up is of peak importance. Representation and solidarity — the assurance that we will be louder together than we will as individuals — are the two tenets buttressing the march; it's not anti-anything, but pro-human rights.
"Our Constitution does not begin with 'I, the President,'" as feminist icon Gloria Steinem, who's been named an honorary co-chair along with activist and performer Harry Belafonte, said in a statement. "It begins with, 'We, the People.' I am proud to be one of thousands who have come to Washington to make clear that we will keep working for a democracy in which we are linked as human beings, not ranked by race or gender or class or any other label."
But labels are already creating disunity 
Even as the organizers press a platform based on unqualified unity, certain factors threaten to fragment the movement. Sex workers and allies have criticized the march, first for aligning itself with organizations like Equality Now — which the Global Network of Sex Work Projects says has been unfriendly to sex workers' rights — then for amending its platform to curb solidarity with sex workers.  
Then, the march inadvertantly partnered with an anti-abortion group bearing a misleading name: New Wave Feminists — a move that stood in direct contradiction to the march's pro-choice platform. Though the chairs issued a statement apologizing for the oversight, as the Atlantic reported, doing so alienated some women who identify as feminists but do not support abortion. 
On top of all that, there's the question of race, which has dogged the march from its inception. The brainchild of white women dissatisfied with the election's outcome, the Women's March attracted criticism for relegating people of color to the sidelines. The addition of three renowned activists, all women of color, to the organizing team looked like a Band-aid solution to some, and undermined the co-chairs' message of intersectionality. 
Can the march still send a unified message? 
Controversies have opened speculation from the right that infighting will tear apart the movement, recalling the post-election assertion that identity politics had torpedoed Democrats' chances at winning the White House. It also raised an important question: With so many issues at stake, can a march that aims to address them all at once have any measurable effect? 
According to Pamela Oliver, the Conway-Bascom professor of sociology at the University of Wisconsin in Madison, the effect of the march hinges not on the day's success, but on what attendees take away. 
"The march itself seems unlikely to be able to change the opinions of those in power," Oliver, who studies collective action and social movements, wrote in an email. She continued:
The longer-term consequences will depend on the extent to which the energy gained from the march can be converted into more sustained political action. As early victories are unlikely, the ongoing movement will have to sustain morale and effort for the long haul. And, in the long haul, will have to deal with the genuine political divisions among people currently united by their opposition to the incoming president and/or the Republican agenda.
Participants should not expect an immediate policy impact. Rather, the march's most urgent goal is to bring new people to activism; to help marchers find their allies; to get people to "gather and come together in ways we never have before," Mallory said. 
That means asking the awkward questions, acknowledging the differences that still divide the feminist movement and confronting myriad problems at once. Whether or not the Women's March achieves its intended effect depends on the turnout — in Washington, D.C., and at local marches — and in maintaining a conversation now and for the foreseeable future.