Donald Trump is offering free tickets to his inauguration — and it's totally backfiring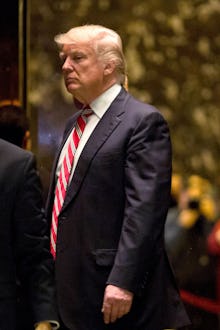 President-elect Donald Trump and Vice President-elect Mike Pence took to Facebook over the weekend to invite supporters to their inaugural festivities on Jan. 19 and Jan. 20.
Yet the effort did not garner the expected response, with hundreds of people leaving comments detailing all of the the things they'd rather do than see Trump take the oath of office, including getting root canal surgery and walking "barefoot through broken glass."
"My dog needs her anal glands expressed that day. I figured I should learn to do it myself, since we are going to be reluctantly cleaning up ???? in a few years anyway," one user wrote on the video, which Pence posted to his Facebook account.
Another joked that she wanted to go but said she doesn't "speak Russian and I worry I wouldn't understand what was going on."
Yet another said that she'll be busy, "polish[ing] John Lewis's Presidential Medal of Freedom while he's out of town" — a reference to the Georgia member of Congress and civil rights icon with whom Trump has been feuding over the past few days.
Many said they only attend the inaugurations of "legitimately elected presidents," referencing Russia's cyberattacks and interference in the presidential election. 
To be sure, the offer is merely for "commemorative" tickets, and seems to be geared toward building excitement for the inauguration.
Actual tickets to the swearing in ceremony, which takes place on the steps of the U.S. Capitol, are free and handed out by members of Congress — who seek applications from their constituents and dole them out as they see fit. Attendees without tickets are free to gather on the National Mall, which spans out from the Capitol.
Either way, the response to his post bodes poorly for the president-elect, who promised record crowds at his swearing in.
The Washington, D.C., Department of Homeland Security and Emergency Management says it expects between 800,000 and 900,000 supporters and protesters for the event, according to NBC, far fewer than the 1.8 million who showed up when President Barack Obama was sworn in in 2009.