Maine Gov. Paul LePage wants Rep. John Lewis to thank Republicans for ending slavery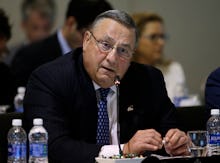 Days after Donald Trump launched an infuriating Twitter attack against Rep. John Lewis, Maine Gov. Paul LePage has now asked the famed civil rights leader to say "thank you" to Republicans for championing the rights of black Americans in the Jim Crow south. Yes, you read that correctly.
In an interview with WVOM Maine radio's George Hale and Ric Tyler Show on Tuesday, LePage urged Lewis — who famously marched on Bloody Sunday in 1965 from Selma to Montgomery, Alabama — to "look at history" before criticizing the Republican president-elect.
"It was Abraham Lincoln that freed the slaves," LePage said. "It was Rutherford B. Hayes and Ulysses S. Grant that fought against Jim Crow laws. A simple 'thank you' would suffice."
Lewis drew the ire of Trump after an appearance on NBC's Meet the Press, during which he questioned the legitimacy of the president-elect.
"I don't see this president-elect as a legitimate president," Lewis told NBC News' Chuck Todd. "I think the Russians participated in helping this man get elected and they helped destroy the candidacy of Hillary Clinton. I don't plan to attend the inauguration — it will be the first one that I've missed."
LePage was also critical of other Democrats who have vocalized their distaste for the incoming administration. During the same interview, the governor suggested that Maine congresswoman Chellie Pingree should submit her resignation if she boycotts Trump's Friday inauguration ceremony, as she has pledged to do.
"For some reason, the left has become so hateful and so, they are trying to bully us out of believing our Constitution," LePage said. "Chellie Pingree, if she won't attend on Friday, I would advise her to resign."