Margot Robbie looks just like Tonya Harding on set of 'I, Tonya'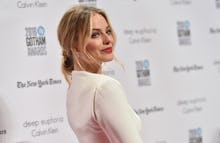 TMZ has released the first pictures of Margot Robbie as infamous figure skating legend Tonya Harding on the set of I, Tonya, and the resemblance is uncanny.
I, Tonya will take a Hollywood spin on the scandal that erupted after Harding's rival and competitor, Nancy Kerrigan, was assaulted prior to the 1994 Winter Olympics. Harding's then-husband planned and executed an attack on Kerrigan that is still talked about today – and now the story is being made into a movie. 
It remains one of the most memorable dramatic events to come out of the Olympics, and Robbie looks just the part. TMZ also obtained video of the actress practicing her skating moves for the film: 
There's no release date set for the movie, but we're eagerly anticipating Robbie's portrayal of Harding.