Android Nougat: Here are all the phones for which the update is available so far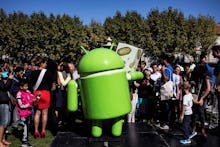 The seventh variation of the Android operating system, Android 7.0 Nougat, was released in 2016. The new operating system brought an array of updates, including 72 new emojis, quick-switch features allowing a more streamlined way to move between apps, a multi-window view feature and a smarter battery. Mere months after releasing the final version of Android 7.0, Google released Android 7.1.1, an update to Nougat that promises to bring "many of the cool features of Pixel to everyone," according to the Google blog.
Read next: Android Nougat features: 6 things you can do that you couldn't before
Which devices have received the update?
Whether or not an Android phone has the update depends on the device, carrier and country. Some smartphones have received the Android 7.0 update, some have received or are scheduled to get the Android 7.1.1 and others are still waiting to get an update, if they get it at all. Here are devices that already have the Android Nougat update, according to Android Authority:
Samsung Galaxy S7
Samsung Galaxy S7 Edge
OnePlus 3
OnePlus 3T
Nexus 9 (T-Mobile)
Moto Z (Canada)
LG G5 (Canada)
LG G5 (Sprint)
Sony Xperia X
Sony X Compact
Sony X Performance
Sony XA
HTC (unlocked)
HTC One M9 (unlocked)
Nexus 6P
Nexus 5X
Pixel C
Nexus 9
LG V20
Which devices are supposed to get the update? 
In the Android 7.1.1 announcement, Google revealed that the updated version of Android Nougat 7.0 would be available for Nexus 6, Nexus 5X, Nexus 6P, Nexus 9, Pixel, Pixel XL, Nexus Player, Pixel C and General Mobile 4G (Android One). 
Sony said it will bring Android Nougat to 19 Xperia models and Motorola announced in October which devices would be receiving the Android 7.0 Nougat update. The list includes: Moto G (4th Gen), Moto G Plus (4th Gen), Moto G Play (4th Gen), Moto X Pure Edition (3rd Gen), Moto X Style, Moto X Play, Moto X Force, Droid Turbo 2, Droid Maxx 2, Moto Z, Moto Z Droid, Moto Z Force Droid, Moto Z Play, Moto Z Play Droid and Nexus 6.