How Lady Gaga's rumored aerial Super Bowl 2017 stunt will compare with past performances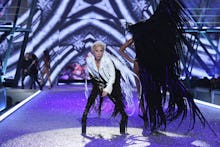 When Lady Gaga announced she would be performing at the 2017 Super Bowl halftime show, she tweeted: "It's not an illusion. The rumors are true. This year the SUPER BOWL goes GAGA."
Based on her previous performances "Going GAGA" could mean just about anything, including athletic dance numbers, pyrotechnics and even some aerial choreography. And, based on rumors, as well as photos shared on Instagram by the singer/songwriter, she doesn't intend to disappoint her fans, whom she affectionately calls "Little Monsters." 
In fact, rumors are swirling that she hopes to perform from the top of the NRG Stadium's dome — an ambitious and dangerous stunt, according to Page Six. Insiders claim Gaga's "team is worried" about her ambitious scheme, but Gaga herself is "pushing to do it."
"They're writing up multiple plans about how to safely get her on the roof, including potentially [cutting] a hole in the ceiling of the dome," says a source with knowledge of the arrangements, Page Six reports.
If her recent live performances are any indication, Gaga's halftime show will be one for the books, and repeated viewings on YouTube. Here's a look back at some of her most spectacular performances ahead of her sure-to-be-iconic 2017 Super Bowl halftime show.
"Born This Way" 
Gaga's 2011 Grammy performance of "Born This Way" was was fairly tame: she was rolled onstage in an enormous egg, from which she hatched and proceeded to dance up a storm while performing the empowering number. 
"Bad Romance/Speechless"
The singer broke some boundaries, literally, in her 2009 American Music Awards performance of "Bad Romance." After performing the athletic choreography she is known for, she proceeds to smash glass onstage to access her piano and perform "Speechless" while surrounded by flames of fire. 
"Marry the Night" 
Gaga went dark for her 2011 Grammy Nominations Concert performance of "Marry The Night," costumed in dark clothes and makeup and dancing in what resembled a junkyard, surrounded by fog and mist. It doesn't get more atmospheric than this. 
"Paparazzi"
This number showed off Gaga's special ability to subvert classical performance elements, as she delved into the darker elements of the song. Gaga and her dancers performed "Paparazzi" at the 2009 VMAs on an elegant set resembling an opulent European mansion. After playing the piano with her feet resting on the keys, she enacted a violent injury, with blood running down her all-white costume before hanging from the ceiling on a rope. 
"Telephone/Dance in the Dark"
Gaga went solo for her "Telephone" performance at the 2010 Brit Awards, showing the audience that all it takes is her and a few musical instruments to pull off a stunning performance. Rather than her usual group of backup dancers, she was joined onstage with what looks like a giant lego version of herself. But no one can argue that two Gagas isn't better than one.