Ryan Reynolds was working on 'Deadpool' script while filming 'Green Lantern'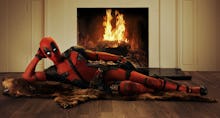 It is funny how fortunes change. In 2011, Ryan Reynolds starred as Hal Jordan in DC's Green Lantern, which received 26% on Rotten Tomatoes, and ultimately earned $219 million on a reported budget of $200 million — ouch. Reynolds followed Green Lantern with a string of misses, including R.I.P.D., The Change-Up and Self/Less. Reynolds, though, is very much back on top after starring and producing Deadpool, the highest-grossing R-rated movie ever. 
While it would seem unlikely that Green Lantern would have contributed in any way to Deadpool's success, in reality, the DC flop played a much larger role than you may have thought. While speaking with the Hollywood Reporter as part of its Awards Chatter podcast, Reynolds talked about how he worked on Deadpool while filming Green Lantern. 
"The weird plot twist was, somehow, some way, Deadpool got reinvigorated at Fox while [Green Lantern] was happening," Reynolds said. "What a lot of people don't know is [writers Rhett Reese and Paul Wernick] flew to New Orleans and, while I was shooting Green Lantern, we were actually all together writing Deadpool. We were breaking the story of the original Deadpool movie in a house that was being paid for by Green Lantern's dime." 
So, it looks like Green Lantern was not a total bust for Reynolds. Not only did he meet his future wife, Blake Lively, while working on the film, but it appears that Green Lantern played a large role in the development of Deadpool. To that we should all say "thank you, Green Lantern."