This deceased 'Game of Thrones' character may return in season 7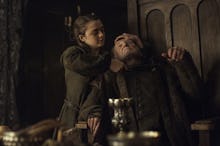 It's not surprising to hear Game of Thrones would bring a character back from the dead — not after Jon Snow, Sandor Clegane, Benjen Stark and Beric Dondarrion have all returned to the show in some shape or ghoulish form. But the latest rumor would be a bit more unexpected: the return of Walder Frey. 
Yes, that Walder Frey. The man responsible for the Red Wedding; the one whose throat was slit by Arya Stark in last year's season six finale. Good times. 
The Game of Thrones fan site Watchers on the Wall has noticed the actor who played Frey, David Bradley, included an acting credit for season seven of the show on his United Artists agency resume. So, unless Bradley screwed up his resume (though, haven't we all?), it seemingly implies the character will return to Game of Thrones in its upcoming season. 
How's that possible? While Frey could make an appearance in the form of a flashback or a trippy Bran Stark vision, our money's on a more entertaining conceit: Arya is going to wear Walder Frey's face. 
Such an act became Arya's newest calling card after learning the skills of the Faceless Men at the House of Black and White (if you haven't watched the show, this sentence must sound like complete gibberish). It's how Arya was able to sneak into the Twins and, presumably, how she'll be able to cross more names off her kill list. 
What better way to get closer to the people she wants to kill than pose as one of her former victims? House Frey is loyal to the Iron Throne, now occupied by Cersei Lannister whom, if we're to guess, is at the very top of Arya's list. Conversely, Arya could dismantle House Frey from the inside to help House Stark and eventually reunite with Jon and Sansa. Basically, there's a lot of ways Game of Thrones could do this — all of them rather fun. 
Granted, this is all speculative at this point. Even if Walder Frey's likeness doesn't make a return to the show, Arya's storyline is sure to be one of the most intriguing aspects of season seven. 
January 17, 2017, 4:54 p.m. Eastern: This story has been updated to reflect the original source from Game of Thrones fan site Watchers on the Wall. 
Mic has ongoing coverage of Game of Thrones. You can follow our main Game of Thrones hub here.