The Nigerian military just accidentally bombed a refugee camp, killing dozens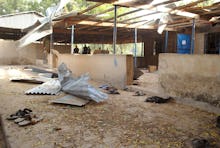 Nigerian military planes mistakenly dropped bombs Tuesday on a camp for refugees of radical Islamic violence, killing at least 50 residents and humanitarian workers, the Washington Post reported.
The government-operated camp in Rann, Nigeria, is located in an area of the country that has seen a spike in Boko Haram-perpetuated attacks in recent months.
According to the New York Times, the medical charity Doctors Without Borders reported that its teams of rescue workers had counted at least 120 injured in the aftermath of the bombing.
Nigerian President Muhammudu Buhari confirmed the accidental nature of the attack on Twitter.
"I received with regret news that the Air Force, working to mop up BH insurgents, accidentally bombed a civilian community in Rann, Borno State," he tweeted Tuesday afternoon.
According to the Guardian, the camp may have been fostering more than 25,000 displaced people at the time the bombing occurred. Hugues Robert, Doctors Without Borders' head of emergencies, told the Guardian that the camp's large population was precisely what made it an unlikely target for Nigerian military hoping to root out terrorists.
"We [are] speaking here about an area that is controlled by the army fully," he said. "The whole camp is controlled by the army and no one can come in or out without being checked, so that's a shock, as well as the fact that this was a very densely populated place that was full of civilians who already lived there and internally displaced persons who had come there."