Recipes for your Valentine's Day, Galentine's Day, whatever-you-wanna call-it potluck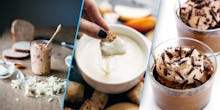 Whether you're in a relationship, single or "it's complicated," Valentine's Day is time to treat yourself. No matter how ambiguous your relationship status, treating yourself is the best, and it's only way to celebrate Valentine's Day, the best food holiday in all of February. 
Chocolate, truffles, champagne, strawberries ... whatever food you're madly in love with, celebrate it come Feb. 14 by sharing homemade dishes with your closest friends (and maybe their crushes) because mingling at potlucks is guaranteed. 
Cupid would want all food lovers to get together on Valentine's Day, obviously, so cook up a recipe that your friends will fall in love with — and they may even love you a little more too for sharing it. Here's what to make:
Citrus kale salad
This colorful salad comes together in minutes, but looks more like something you'd order in a restaurant than throw together at home. Thanks, pomegranate seeds! Get the recipe here. 
Harissa pimento cheese
Start the party off with a spicy kick with this spread that goes on pretty much anything. Get the recipe here. 
Honey balsamic and lemon Brussels sprouts chicken with goat cheese polenta  
Sure, this mouthful of a recipe sounds complicated, but your beloved potluck crew is worth some extra work, right? The three elements (Brussels sprouts, chicken, polenta) are actually remarkably simple to put together, and a big pot of polenta is great to serve a crowd. Get the recipe here.
Shrimp and gnocchi with garlic parmesan cream sauce
Not only does this creamy seafood dish resemble an overpriced restaurant special somewhere you're not, it all comes together in one pot for easy transport. (And easy clean up, score!) Bring some fresh herbs to sprinkle over the skillet just before you serve. Get the recipe here. 
Easy Swiss fondue
Valentine's Day is a cheesy holiday and you should celebrate accordingly. This simple fondue recipe is designed to share, making it the perfect potluck food. Get the recipe here. 
Beef bourguignon
Your potluck may not actually take place on the French countryside, but you may as well pretend with this comforting stew to share. It's the perfect pre-game for a cuddle session. Get the recipe here.  
Kale pesto couscous stuffed peppers
These kind of look like Valentine's Day hearts, right? Maybe? Well, present each homemade stuffed pepper like its own little valentine and you'll be sharing the love regardless. Get the recipe here. 
Rose lemon spritzer
Fact: The person who brings the cocktail to share is always the most popular person at the potluck. And if you're looking for love at this Valentine's Day celebration, a cocktail may be the liquid courage you both need. Make this rose-flavored and garnished drink for a Valentine's Day treat. Get the recipe here. 
Dark chocolate avocado mousse 
Two things people love: avocado and chocolate. Together, the combo may sound odd, but stay with us. Combining the two results in a seriously rich dessert that's suitable for vegans and lactose intolerants alike, though omnivores will probably be tempted to dig in until the mousse disappears. Get the recipe here.