'Super Mario Odyssey' Release Date: Why wait? You can play this terrifying 'GTA 4' mod now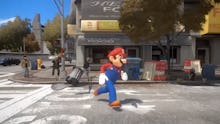 The Super Mario Odyssey release date is officially set for "Holiday 2017," meaning we have almost an entire year to go before Nintendo Switch owners can explore New Donk City for themselves. But anxious gamers can get their hands on an early version of Super Mario Odyssey right now — sort of. 
Youtube user CrowbCat was able to turn Vice City, the setting from Grand Theft Auto IV, into "New Donk City" using a simple character mod. The resulting Super Mario Odyssey-GTA 4 mashup is equal parts hilarious and terrifying. It also contains plenty of video game violence. So proceed with caution.
Super Mario Odyssey Release Date: GTA 4 Vice City mod is almost as good as the real thing
The GTA 4 version of Super Mario Odyssey looks much scarier than the actual Nintendo game. For one thing, Mario's legs have been stretched to normal human proportions — which oddly, looks even weirder than the regular Mario did amongst real humans in the game's official trailer. Seriously, why does he look so different from the people of New Donk City? Thanks to this video we finally have our answer.
In addition to his growth spurt, Mario's time in Vice City is a dangerous one. The plumber gets hit by cars, engages in bar fights and even dances atop the Statue of Liberty. If any game should sport a "Don't Try This At Home" sticker, it's Super Mario Odyssey mixed with GTA 4 — or pretty much any other regular GTA game.
If you want to try it for yourself you can grab the skins here.
Super Mario Odyssey Release Date: When will the actual game come out?
So when can you get your hands on the actual Super Mario Odyssey game? Nintendo revealed during their Switch event that Odyssey can be expected sometime during the holiday season. Nintendo's vagueness on the date is likely on purpose, but at least means we'll see a new Mario title in less than a year's time, likely around November or December. Maybe even before the rumored Super Smash Bros. Switch.
With only a trailer to its name, there aren't too many details known about Super Mario Odyssey besides the setting, characters and some fancy hat tricks. We'll probably learn more as we get closer to that promised release date. Stay tuned!
More Nintendo news coverage and updates
For more info on what Nintendo revealed during its livestream, here's where you can get our hands-on with the Nintendo Switch, details on the Nintendo Switch price, release date, pre-orders and battery life. If you're interested in the Nintendo Switch's games, here's info on the new Super Mario Odyssey game, Legend of Zelda: Breath of the Wild, Splatoon 2, Xenoblade Chronicles 2, 1-2-Switch and the goofy boxing game Arms.