How to make Charles Barkley in 'NBA 2K17': MyCareer tips to create the star player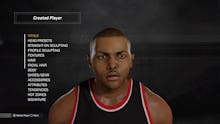 NBA 2K17 has a healthy amount of legendary athletes and classic teams for its fans to choose from. But if you ask any 2K fan which missing legend they would most love to see in the game, you'll get a lot of folks mentioning Hall of Famer Charles Barkley.
Barkley is in NBA 2K17, but there's a catch: He's only available if you play as the original Dream Team Olympic Squad from 1992.
That's the only level of inclusion Barkley would agree to — thus there's a fairly massive hole left in the game's nostalgic authenticity.
Of course, you could always create your own Sir Charles to use as a MyPlayer or in a custom roster for MyGM and MyLeague — and here's a pretty accurate way to do just that.
How to get Charles Barkley in NBA 2K17: MyCareer tutorial and tips
First, let's deal with the cosmetics. It's easier to show this in a video — with the added benefit of being able to pause and resume as you please:
The ratings come from the version of Barkley that is included with the Dream Team. This information is a little tough to find, but here's how you can access it in-game.
NBA 2K17 MyCareer tips: Finding Charles Barkley's ratings in the game
Begin a game with the Dream Team — it doesn't matter which opponent you choose.
Once you've passed the jump ball sequence, pause the game and scroll down to game stats. Select box score, then scroll down to Barkley's name and select it.
You'll have his stats on the screen, and if you use the L2/R2 or LT/RT buttons on your controller, you'll be able to cycle through his attributes and tendencies.
This is the next best thing to having the real 2K-produced render in all modes.
Jan. 18, 2016, 3:29 p.m.:  This story has been updated.
More sports games news and update
Are you a sports gamer? Check out more content from Mic, including Kyrie Irving's Christmas Day game-winner re-created in NBA 2K17, some Ultimate Team predictions for new signees in the MLS, Madden 17 Ultimate Team NFL Playoff updates and WWE 2K17 DLC news.