Steve Harvey finally apologized for racist joke implying Asian men are unattractive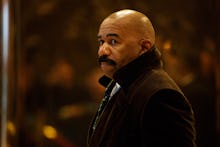 Steve Harvey isn't laughing anymore. 
On Tuesday, the host of the Steve Harvey Show tweeted an apology for his offensive comments about Asian men.
"I offer my humblest apology for offending anyone, particularly those in the Asian community, last week," Harvey wrote in a tweet. "It was not my intention and the humor was not meant with any malice or disrespect whatsoever."
In his opening segment on Jan. 6, Harvey poked fun at self-help guides and began with a book titled How to Date a White Woman: A Practical Guide for Asian Men. Harvey joked implying that no women, specifically white women, find Asian men attractive. 
"[The book is] one page too!" Harvey said about the self-help book. "Excuse me, do you like Asian men? No. Thank you." 
Harvey then proposed a book with the title How to Date a Black Woman: A Practical Guide [for] Asian Men to continue the "Asian men are unattractive" trope.
"Same thing," Harvey added. "You like Asian men? I don't even like Chinese food, boy. It don't stay with you no time. I don't eat what I can't pronounce."
Harvey's apology comes on the heels of immense backlash from the online community, including restaurateur and television host Eddie Huang who penned a New York Times column criticizing the comedian's joke. 
"That's why this Steve Harvey episode is so upsetting," Huang wrote. "He speaks openly about issues facing the black community, he is a man of God and he has a huge platform to speak from. ... For his own personal profit, he's willing to perpetuate the emasculation of Asian men regardless of how hypocritical it is."
According to the New York Daily News, a coalition of New York lawmakers wrote a letter demanding an apology from Harvey dated Friday.
"You and your producers managed to insult Asian men, white women and black women with a single skit," the letter said, according to the Daily News. "Your statements were racist, sexist and completely inappropriate for a public figure on a show broadcast to millions."