SmartGlamour boldly launches a campaign starring only transgender, nonbinary and gender-fluid models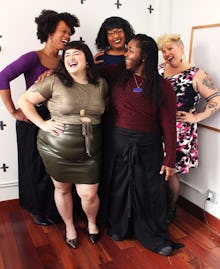 SmartGlamour has long prided itself on providing fashion for everyone. 
With dresses and separates from XXS to 6X and beyond, and multiple campaigns celebrating inclusivity in fashion with models of various gender identities, abilities and size, the online brand is just one of those brands that feels ahead of its time. 
For its latest campaign, it continues to pave the way, launching #AllMeansAll, which features five models who all identify as transgender, nonbinary or gender-fluid. 
Although most of these models have worked with SmartGlamour before, this is the first time designer Mallorie Dunn has chosen to highlight their identities. 
For that, you can thank Donald Trump. 
"After the election, I knew I wanted to become even louder in 2017 — raise marginalized voices higher on my platform, and do what I can to help create safe spaces for those who need them while working to change the imagery we consume in the media," Dunn said in an interview. "So this campaign is the first installment of a yearlong movement — #AllMeansAll — to stress that inclusivity is important, words matter and everyone deserves to be seen." 
In the campaign, which is prominently shown on SmartGlamour's website, models wear the brand's skirts and sparkly tops and dresses. 
Although Dunn had previously feared that revealing her models' gender identities would be exploitative, she's come to realize that these campaigns can serve as a platform to celebrate them when they will perhaps need support the most this year. 
"All human beings deserve the same access to rights, desires and needs — LGBTQ people are people just like every other group — and if one end of the spectrum is going to dehumanize and discriminate against them, then I am going to lift them up, to try to do what I can to balance it out," Dunn said. 
Throughout the year, Dunn intends to not only embrace models with different gender identities, but launch campaigns focused on different people of color, models who are older than 45 years old, people with disabilities and people over a size 24. 
The real goal here is to celebrate the people fashion most often ignores and encourage others to do the same. 
"I hope people who identify as LGBTQ feel seen and represented. I hope those who possibly thought SmartGlamour was simply for cis women now realize we truly mean all — regardless of gender expression," Dunn said. "I hope those who do not personally know any trans, genderfluid or nonbinary individuals have taken a moment to educate themselves. I hope it has broadened people's minds on expression and presentation via clothing — and has reminded folks that clothing items do not have a gender, society has assigned [them] one."