Barack Obama net worth: Here's how much money the president made both in and out of office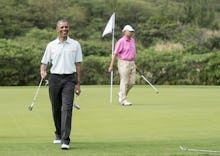 President Barack Obama will leave office a lot richer than when he entered it, although he's still nowhere near as wealthy as his future replacement. 
Because he has spent a great deal of his career in public service — Obama was a U.S. senator before becoming president, and before that he was a state senator — it's relatively easy to track down information about Obama's finances. 
Here's what to know about the departing president's money situation. 
What is President Barack Obama's net worth?
Most reports peg Obama's net worth at a little more than $12 million, while his wife Michelle Obama is reportedly worth only a little less, around $11.8 million. 
A lot of that comes from book royalties: Obama nabbed a $1.9 million advance for The Audacity of Hope: Thoughts on Reclaiming the American Dream, which has since also paid out millions in royalties. 
Obama also has a few investments although they are all famously drab: They own somewhere between $1 and $5 million in U.S. Treasury notes, and between $300,000 and $700,000 invested in a series of Vanguard index funds, according to CNN. 
Obama's presidential salary
Throughout his presidency, Obama took the $400,000 yearly salary that's set by Congress, in addition to a generous $50,000 annual expense account, a $100,000 travel account and $19,000 which went towards entertainment. 
Those state balls don't pay for themselves, after all. 
While that seems like a lot of money, easily enough to put the president into the highest 1% of earners, there's a reason why the founding fathers wanted the president to be relatively well-paid. 
In fact, lowering the presidential salary is actually against the law — framers feared an unpaid president would be more open to bribery — although wealthy presidents like John F. Kennedy and Herbert Hoover got around this proscription by accepting the salary and then donating it to charity.
President-elect Donald Trump has also vowed not to keep his salary while in office.
How will Obama make money after leaving office? 
While the presidential pay is certainly nothing to scoff at, it's arguably pennies compared to what former commanders in chief make when they leave public life: Former President Bill Clinton and Hillary Clinton notoriously earned $6.7 million in speaking fees alone, according to their 2015 tax returns. 
The Obamas are likely to go a different route, and one that's suited to their literary chops: A New York Times report suggests publishers are salivating over the rights to publish memoirs from both the president and the first lady. 
Even the more conservative estimates of what the Obama book deals could bring in range north of $20 million, according to the Times report.
Obama has also floated a few other options for his post-presidential career — and some, like rumors he could become a venture capitalist, could be even more lucrative than the speaking circuit. 
Then again, Obama could very well decide to take it easy in his post-presidential life as well: Congress sets the presidential pension at roughly $200,000 a year.
Sign up for The Payoff — your weekly crash course on how to live your best financial life.