'Pokémon Stars' Release Date 2017: Nintendo Switch game might not come until next year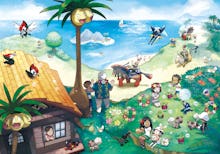 The Pokémon Stars release date for Nintendo Switch was one of the many things we did not see revealed during the company's big announcement on Jan. 12. The event was full of details from Nintendo Switch titles like Super Mario Odyssey, Splatoon 2 and Mario Kart Deluxe. But with not a single mention of any Pokémon games for the Nintendo Switch, the launch of a new pocket monster title in 2017 is looking slim.
Pokémon Stars Release Date: The Gen 7 spinoff game may not come in 2017
Nintendo was eager to divulge its 2017 roadmap for the Switch console. Games like Legend of Zelda: Breath of the Wild and 1-2-Switch were announced to launch the same day as the Nintendo Switch. Other titles coming to the Switch, like Skyrim and Rayman Legends, will make their way to the console later on in 2017. We even received confirmations regarding what games we can expect at the very end of the year with Super Mario Odyssey. So if Pokémon Stars was coming this year, we would've heard about it during the Nintendo presentation, right? After all, even Fire Emblem got a teaser trailer during the event.
Pokémon Stars Release Date: Does this mean Nintendo Switch Pokémon in 2018?
Let's not jump the gun here. For one, Nintendo has yet to give up any information regarding Pokémon games on their console-quality handheld. Nor has The Pokémon Company, though we do know for a fact that something related is in the works for the Switch.
While Pokémon games tend to come in twos, Game Freak is also known to release a third game later on that goes with the current theme. Pokémon Yellow in addition to Red and Blue, for example, or Pokémon Emerald for Ruby and Sapphire. The sixth generation games, Pokémon X and Y, bucked this trend. However, we could see Pokémon Sun and Moon reignite the tradition.
Don't expect Pokémon Stars anytime soon, though. Due to the Nintendo Switch's capabilities, the game could potentially require a total re-write of the game's visuals. Unless the game's designers decided to simply smooth out a few of the game's rough edges, like in this fan-made HD remake of the current game.
As with all Pokémon Stars release date rumors, however, official details remain scarce. We'll be sure to bring you the latest as more information surfaces.
More Nintendo news, coverage and updates
For more info on what Nintendo revealed during its livestream, here's where you can get our hands-on with the Nintendo Switch, details on the Nintendo Switch price, release date, pre-orders and battery life. If you're interested in the Nintendo Switch's games, here's info on the new Super Mario Odyssey game, Legend of Zelda: Breath of the Wild, Splatoon 2, Xenoblade Chronicles 2, 1-2-Switch and the goofy boxing game Arms.