'Persona 5' Trailer, Release Date in US: New gameplay video shows off dungeon mechanics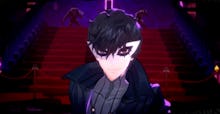 Those lucky ducks in Japan already have their hands on Persona 5, but those of us in the U.S. are still waiting for its Apr. 4, 2017 release date. To tide us over, publisher Deep Silver released a new Persona 5 trailer that shows off some of the cool mechanics waiting inside the game's many dungeons.
If you're new to Persona, it's a Japanese RPG franchise that centers around a bunch of high-school-aged kids who don magical "personas" through the use of various items. In Persona 5, those items are masks.
Persona 5 trailer teases U.S. release date
The latest trailer focuses on Persona 5's "palaces," which are dungeon-like environments that are essentially the manifestation of people's "most distorted desires," according to Persona developer Atlus.
In these dungeons, it looks like there will be a mix of traditional turn-based combat along with stealth sections. According to Atlus, you'll even be able to avoid some combat encounters altogether.
"You can hold up Shadows to negotiate with them to yield money, items and even a chance to avoid a battle entirely," Atlus said in a press release. "Oh, and this time around the protagonist can even convince them to join the Phantom Thieves to be utilized as a Persona! Of course, if you're more of a shoot-first-ask-questions-later type of person, feel free to destroy all the Shadows."
Persona 5 release date in U.S.
Persona 5 will be available for PS4 and PS3 on April 4, 2017.
More video game news and updates
For more video game news, check out the latest from Mic. Here are our hands-on impressions of the Nintendo Switch, the latest trailer for Injustice 2, a giant guide to Final Fantasy 15 and a rundown of the newest patch to hit the Overwatch PTR.