Who is Oscar López Rivera? The story behind the man who received Barack Obama's clemency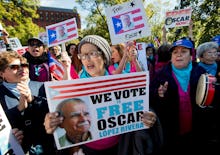 With 209 commutations granted Tuesday, President Barack Obama commuted the sentences of 1,385 individuals — more than any president in U.S. history, according to the White House. In addition, Obama issued 64 pardons on Tuesday, for a total number of 212. 
In addition to Chelsea Manning, Oscar López Rivera is one of the two high-profile prisoners who received Obama's clemency. He became cause for celebration for many Puerto Ricans on the island and abroad. Though he was due to serve 70 years, López Rivera, 74, will be released on May 17, according to a report from EFE. 
Who is Oscar López Rivera?
López Rivera is a Puerto Rican nationalist and Vietnam War veteran, according to Puerto Rico's newspaper El Nuevo Día. He moved to Chicago, Illinois, when he was only 14, El Nuevo Día reported. 
After the war, he became a community organizer in Chicago and became more and more convinced that Puerto Rico was a U.S. colony. In fact, Puerto Rico is an unincorporated U.S. territory, which means that those born in Puerto Rico are considered U.S. citizens yet they're not allowed to vote for president and do not have voting representation in Congress. 
He was one of the leaders of the Fuerzas Armadas de Liberación Nacional — also known as FALN — a Puerto Rican clandestine paramilitary organization that fought for complete independence of Puerto Rico from the United States. At the time of its dissolution, the paramilitary group was responsible for over 120 bombings of military and government buildings, financial institutions and corporate facilities in Chicago, New York and Washington DC between 1974 and 1983, killing six people and injuring dozens more.   
On Apr. 4, 1980, police arrested 11 FALN members in Evanston, Illinois, near Northwestern University. They were found guilty of seditious conspiracy and sentenced to extensive prison terms in federal prisons across the U.S. 
Why was López Rivera convicted?
In 1976, the FBI found an apartment linked to López Rivera containing explosives and FALN-related materials, NPR reported. But it wasn't until May 29, 1981, when he was arrested for seditious conspiracy, interference with interstate commerce by threats or violence and possession of an unregistered firearm, among other charges related to his participation with FALN. But according to Mother Jones, he was not charged with participating in the bombings or attempting to hurt anyone. At the time, he was convicted and sentenced for 55 years but received 15 additional years for conspiring to escape from a Kansas-based prison in 1988. 
He has served nearly 36 years so far, of which 12 have been spent in solitary confinement in some of the highest security prisons in the country, Mother Jones reported in May 2014. López Rivera has become one of the longest-serving political prisoners in U.S. history and is currently being held in Terre Haute, Indiana. 
Why was his sentence commuted? 
In 1999, President Bill Clinton offered commutation to 16 jailed FALN members, and a deal was offered to López Rivera. However, he rejected it because not all of his comrades were included, NPR reported.
Even behind bars, López Rivera stated his belief in his cause. In an October 2016 interview with NPR, he said, "There were resolutions of the United Nations pointing out very, very clearly that colonialism was a crime against humanity and that colonized people have the right to self-determination and to independence and to achieve it by any means necessary — including the use of force." 
Puerto Ricans, regardless of political beliefs, have widely supported the release of López Rivera because they believe the sentence is disproportionate, something even Clinton thought about when he offered clemency, as Mother Jones reported: "These petitioners — while convicted of serious crimes — were not convicted of crimes involving the killing or maiming of any individuals," then-President Bill Clinton said at the time. "The question, therefore, was whether the prisoners' sentences were unduly severe and whether their continuing incarceration served any meaningful purpose." 
In an interview with NPR, Rep. Luis Gutierrez (D-Ill.) also added that he has "never been an advocate of violence in order to meet your goals," but that he was "a person who believes in justice and in fairness." Gutierrez added that "[López Rivera] wasn't indicted for murder." 
As a result, a petition was created on the White House website, citing that "he does not pose a threat, and he deserves to be home with his family to live in peace the rest of his years." The petition gathered 108,413 signatures, surpassing its 100,000 goal. 
High-profile figures and politicians celebrated Obama's decision. For instance, Sen. Bernie Sanders (I-Vt.) applauded the announcement on Twitter: "I appreciate POTUS listening to Puerto Ricans and people worldwide who believe Oscar López Rivera deserves a chance to enjoy his freedom." 
Speaker of the New York City Council Melissa Mark-Viverito called her followers to celebrate: "Everybody to La Marqueta to celebrate #OscarIsFree!" 
Actress Gina Rodriguez said on Twitter, "Oscar Lopez Rivera has been pardoned!!!!! #ComingHome
Perhaps the most heartfelt reaction came from award-winning actor Lin-Manuel Miranda, who tweeted multiple times about López Rivera's release: "Sobbing with gratitude here in London. OSCAR LÓPEZ RIVERA IS COMING HOME. THANK YOU @POTUS." 
Miranda added, "I wish I was with every [Puerto Rican] in Chicago RIGHT NOOWWWWW." 
Finally, Miranda said in a tweet to Mark-Viverito that he will bring his Broadway musical Hamilton to Chicago for López Rivera: "And @MMViverito, when you talk to Don Oscar, [tell him] I've got a show for him in Chicago. It'll be my honor to play Hamilton the night he goes."