Is the Women's March on Washington welcoming to sex workers?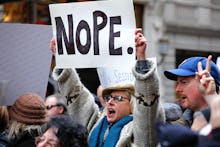 Historically, women's liberation movements have had a nettlesome relationship with sex workers, usually shutting them out as an entire class. So as hundreds of thousands of women flock to Washington, D.C., this weekend to march for equal pay, access to affordable health care, labor protection, paid family leave and a host of other issues, a question remains: Are sex workers welcome as a part of the Women's March on Washington's struggle? It's not entirely clear.
On Tuesday, freelance writer Melissa Gira Grant noticed that the Women's March on Washington had edited their platform to remove support for sex workers' rights. The words "in solidarity with the sex workers' rights movement" were replaced with support for "those exploited for labor and sex," a seemingly anti-sex worker amendment that portrays sex workers as exploited, vulnerable people without agency.
After an online uproar, the news reached the attention of TV host and transgender rights activist Janet Mock, who immediately worked with the Women's March team to put the original language back in the platform.
"Sex work is work," Mock tweeted. "We must be free to make choices about our bodies, our lives. We must respect one another's agency. Period."
By the end of the day Tuesday, the language saying that the march stands "in solidarity with the sex workers' rights movement" was returned to the platform. Some damage, though, was already done. Grant and sex workers rights activists are still looking for answers as to how the mix-up occurred, and the incident inspired affiliated arms of the Women's March to explicitly come out in support of sex workers.
"We, at Women's March Washington-Canada do not support the removal of this language and apologize to anyone who was hurt by this," a statement on the Canadian page for the Women's March said this evening. "We want to encourage all women to participate."
Throughout U.S. history, sex workers have been largely shut out of the fight for women's rights — the same way that, despite distinct issues, hurdles still exist for transgender women seeking acceptance among  feminists. For one of the largest single women's rights protests this century to recognize sex workers as part of the struggle for women's liberation would go a long way in advancing the cause of sex workers' rights.
We've reached out to the organizers behind the Women's March on Washington, and will update this story if we learn more.
Jan. 29, 2015: This story has been updated to more accurately reflect the contingent of activists concerned with sex work inclusivity at the Women's March on Washington.