Fiona Apple, composer Michael Whalen share "Tiny Hands" chant for the Women's March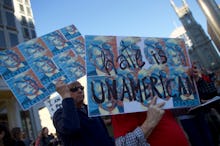 Donald Trump may still be scrambling to find performers to take the stage for his inauguration ceremony, but that doesn't mean Washington, D.C., will be lacking in talented performances from some of music's greatest entertainers that weekend. 
On Tuesday afternoon, singer-songwriter Fiona Apple and Emmy award-winning composer Michael Whalen shared a new chant for the Women's March, a protest that's set to draw 200,000 people to Washington on Jan. 21, the day after Trump's inauguration. The chant captures a generous portion of the March's message, which is to "stand in solidarity with our partners and children for the protection of our rights, our safety, our health and our families," according to the Women's March website, focusing specifically on the "safety" aspect.
It sums up a fair amount of the danger that Trump represents, leaning hard on his infamous "grab them by the pussy" statements leaked by the Washington Post, into a single, infinitely quotable line: "We don't want your tiny hands/ Anywhere near our underpants."
According to the recording's accompanying text on SoundCloud, Fiona Apple recorded the line on her phone while her collaborators crafted a simple drum and piano mix. It's her second anti-Trump hymn, following an endearing carol released back in December — "Trump Nuts Roasting On an Open Fire." It featured similar lyrical jabs as her Women's March chant: "You cry creepy uncle every time he arrives/ For he keeps clawing at our clothes."
The new chant will undoubtedly help add even more incredible cacophony to the action, which is set to spread through the streets Jan. 21.