Assange promised to come to the U.S. if Chelsea Manning got clemency. Your move, Julian.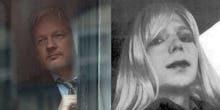 President Barack Obama will commute the 35-year prison sentence of whistleblower Chelsea Manning, releasing an icon of government transparency from a torturous internment marked by suicide attempts and solitary confinement.
That leaves Julian Assange, the head of WikiLeaks, in a bit of an awkward situation. On Jan. 12, the WikiLeaks Twitter account — largely used by Assange himself — tweeted that, if this exact scenario came to pass, Assange would "agree to U.S. extradition."
"If Obama grants Manning clemency," the WikiLeaks tweet read, "Assange will agree to U.S. extradition despite clear unconstitutionality of DoJ case." Assange was referencing the case where — well, it's not exactly clear what case he's referring to. The Department of Justice has been investigating Assange and Wikileaks since 2010, but there's no evidence of charges having been filed.
Assange is currently living in the Ecuadorian Embassy in London to evade extradition to Sweden for sexual assault charges, so the U.S. isn't Assange's biggest problem. But in the U.S., Assange could face other challenges, like potential espionage charges for aiding a variety of U.S. government whistleblowers over the past decade. 
Nonetheless, that there have been no charges means that the U.S. hasn't ordered Assange's extradition. So, technically, what Assange is proposing isn't possible.
Assange has only made a single public statement since the announcement of Chelsea Manning's commutation: "Thank you to everyone who campaigned for Chelsea Manning's clemency," Assange said, according to WikiLeaks' Twitter account. "Your courage and determination made the impossible possible."
If Assange wants to keep to his word and visit the U.S., he might want to wait until next week. Once Inauguration Day has passed, Assange may find a more welcoming presence in Washington, D.C. After all, Trump may have once called for Julian Assange's death — but WikiLeaks' assist to the Trump campaign during this past election made them natural allies.