Make dinner at home this Valentine's Day: These menu options for two will satisfy all your cravings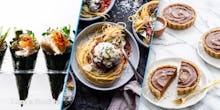 Dining out on Valentine's Day is a rookie move. 
Reservations can be hard to snag, and restaurants often use the international date night as an opportunity to jack up prices and create uninspired prix-fixes you wouldn't even want — let alone want to pay for — any other night. 
Ask any restaurant professional and they'll tell you you're getting ripped off on Feb. 14. And if you are made of cash, you'll have the honor of sitting with a bunch of other sappy couples celebrating Valentine's Day in the most cliché way possible. 
So do yourself and your date a favor and make your own Valentine's Day dinner together this year. Not only will the activity of cooking together bring you closer (or cooking for your loved one allow you to show your adoration), but you won't be limited to a set menu, and you can splurge or save and have a super romantic evening in. Here are some recipe options — that we encourage you to mix and match from — for a romantic Valentine's Day dinner.
Valentine's Day appetizers
Your typical dinner at home may just be leftovers reheated on a plate, but make tonight special with an appetizer course. 
Mini California sushi cones
Sushi night just got so much better with these handmade cones you can roll up together. Get the recipe here. 
Cantaloupe and Mozzarella caprese salad
Every nice meal starts with a composed salad, and this salad is just a cluster of five tasty ingredients thrown on a plate. Easy! Get the recipe here. 
Valentine's Day entrées
Every couple has a different idea of what makes a romantic meal. Maybe it's a dish that you had on your first date or a meal that you can partner up and create together. Go for something that isn't too difficult to eat by candlelight and won't leave you feeling overly full afterward. 
Spaghetti and meatballs
Turn up the Italian love songs and make like Lady and Tramp with this spaghetti dish that's fun to make as a team. Get the recipe here. 
Creamy tomato risotto with pan-fried barramundi
Make this restaurant-quality meal in the comfort of your kitchen together by splitting up the risotto and fish components or working together on both parts. Get the recipe here. 
Portobello steaks with avocado chimichurri
Vegans and vegetarians who want sexy steak-like dinner can indulge in these healthy grilled mushrooms. Get the recipe here. 
Homemade tortellini
Making homemade tortellini requires all hands on deck, so you can bond as a couple while you roll, stuff and fold this pasta into shape. Serve the homemade pasta pouches in broth or with your favorite sauce. Get the recipe here.
Valentine's Day desserts
Of course, you'll want to end your special dinner on a sweet note!
Salted dark chocolate and dulce de leche tart
This luxe tart is great to make together and even better to share. Get the recipe here. 
Ovenly's secretly vegan salted chocolate chip cookies
True love is a chocolate chip cookie fresh out of the oven. Surprise bae by making the dough in advance and preheating the oven just as dinner is winding down. The sensual aroma will get you both in the mood... for chocolate. Get the recipe here.
Valentine's Day cocktails 
After dinner, cuddle up with some homemade cocktails, which are much more romantic than anything you'd drink at a bar.
Pear cranberry champagne cocktails
Popping a bottle of bubbly is even more celebratory when you turn it into a cocktail. Get the recipe here. 
Grapefruit mimosa with rosemary-infused syrup
Any leftover ingredients from this winter citrus drink will be great for breakfast in bed. Who cares that Feb. 15 is a Wednesday? Get the recipe here.