WY teacher denies DeVos claim that school has gun to protect from "potential grizzlies"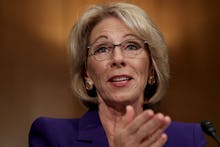 During her confirmation hearing on Tuesday, Betsy DeVos, Republican President-elect Donald Trump's pick to serve as secretary of education in his forthcoming administration, cited grizzly bears as a reason for the federal government not to take action against guns in schools.
DeVos said she believed regulation of firearms in educational institutions should be left to states and localities. Connecticut Sen. Chris Murphy, whose state saw the horrific Sandy Hook school massacre in 2012, pressed DeVos on whether she "can't say definitively today that guns shouldn't be in schools."
DeVos responded that, in Wyoming, "I'd imagine there's a gun in the school to protect from potential grizzlies."
DeVos was referring to an anecdote Wyoming Sen. Mike Enzi told her in a private meeting earlier in the day about schools with wildlife fences. According to a 2005 Denver Post article, several schools in the vicinity of Cody, Wyoming — which has a rebounding bear population — relied on such fences to keep wildlife from wandering onto school grounds. But neither the Post nor another article in the Billings Gazette about the fences made any mention of firearms playing a role in the schools' anti-bear strategies.
Audra Morrow, a teacher at Wyoming's Valley Elementary School in Cody from 2004 to 2006, explained to Mic that no guns were necessary to ward off ursids, and that the fence and bear spray were "absolutely" sufficient measures on their own.
"No firearms in our schools!" Morrow wrote. "We do have bear spray but have never had a problem that would require using it."
"It doesn't speak well of our education system if she's gonna start out with a comment like that," naturalist and grizzly bear expert Doug Peacock said in a phone interview. "Schools may have lots of problems with guns, but that's because of guns, not because of grizzly bears. There hasn't been a grizzly bear on school grounds in the history of the United States that I'm aware of."
Grizzlies are endangered but have been making a comeback. Still, according to Peacock, with only some 1,500 of them left in the lower 48 states, "a schoolkid is going to be lucky enough to see a grizzly bear in his or her lifetime."
Bear attacks are very rare; according to Backpacker, fatality rates from such attacks in the U.S. and Canada averaged under three a year in the 2000s — and more than half of those were in Canada. Such attacks are generally limited to hikers and others in wilderness areas where bears are known to range, not rampages at educational institutions. In Yellowstone National Park — perhaps the greatest hotbed of grizzly bear activity in the U.S. — the chances of being injured by a bear are approximately one in 2.1 million, according to the National Park Service.
On the other hand, according to gun control advocacy group Everytown For Gun Safety, between Jan. 1, 2013, and Oct. 31, 2016, there were 201 school shootings resulting in at least 63 gun homicides and 156 gunfire injuries.
When Murphy asked DeVos if she would support Trump's plan for a federal ban on gun-free school zones, DeVos said she would support the president's initiatives, but added, "My heart bleeds and is broken for those families that have lost any individual due to gun violence."
"I look forward to working with you," Murphy shot back. "But I also look forward to you coming to Connecticut and talking about the role of guns in schools."
Jan. 18, 2017, 3:46 p.m.: This article has been updated.