Former President George H.W. Bush hospitalized in Texas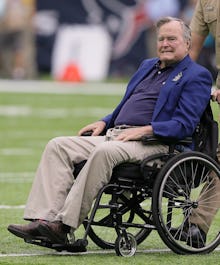 Former Republican President George H.W. Bush has been hospitalized in Houston, according to CBS affiliate KHOU. The father of former President George W. Bush and former Florida Governor Jeb Bush is in stable condition
Bush, 92, was last seen in public Dec. 7 when he and former Senator Bob Dole reunited to commemorate the 75th anniversary of Pearl Harbor. 
Jean Becker, Bush's office chief of staff, said the former president is expected to return home within the next few days.
Bush served as president from 1989 to 1993 and also served as vice president under Ronald Reagan from 1981 to 1989.