Betsy DeVos has no idea what the difference between proficiency and growth is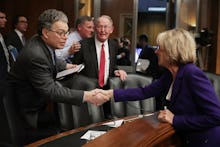 During the Senate confirmation hearing Tuesday of Department of Education secretary nominee Betsy DeVos, Sen. Al Franken (D-Minn.) described an experience contrasting proficiency to growth and used that to ask DeVos for her "views on the relative advantage of doing assessments and using them to measure proficiency or to measure growth." 
DeVos couldn't answer the question.
Franken opened his time by discussing a Minnesota principal who told him "we think of the NCLB tests as autopsies." Franken explains that because No Child Left Behind tests came at the end of the year, "teachers can't use the [test] results to inform their instruction," so Minnesota rolled out a "computer adaptive test" in a majority of schools, so "you get the results right away, and adaptive so you could measure outside of grade level."
"Thank you, senator, for that question," DeVos began her response. "I think if I'm understanding your question correctly around proficiency, I would also correlate it to competency and mastery so each student is measured according to the advancement that they're making in each subject area..."
DeVos, a billionaire, was cut off by Sen. Franken who clarified for her, "Well that's growth. That's not proficiency. So in other words, the growth they're making is in 'growth.' The proficiency is an arbitrary standard."
Sen. Franken then refocused his question to ask about the debate between proficiency and growth, which has been at the forefront of education policy since the Elementary and Secondary Education Act of 1965.
ESEA, which was established under President Lyndon B. Johnson and focused on providing equal opportunity to all students, was updated and reauthorized by Obama in 2015 as the Every Student Succeeds Act. Obama's ESSA was created in response to George W. Bush's 2002 No Child Left Behind Act, which focused on accountability for schools whose students fail to meet proficiency standards. 
According to the Department of Education, NCLB "put in place measures that exposed achievement gaps among traditionally underserved students and their peers and spurred an important national dialogue on education improvement," however the act also "revealed challenges in the effective implementation" of holding schools accountable for students who fall behind. 
According to the Department of Education, the Every Student Succeeds Act fixed issues in NCLB and focuses on "the clear goal of fully preparing all students for success in college and careers."
"This is a subject that has been debated in the education community for years," Sen. Fraken explained to DeVos, "I've advocated growth, as the chairman and every member of this committee knows, because with proficiency, teachers ignore the kids at the top who are not going to fall below proficiency and they ignore the kid at the bottom who, no matter what they do, are never going to get to proficiency. So I've been an advocate of growth, but it surprises me that you don't know this issue."