When will 'Frontier' premiere on Netflix?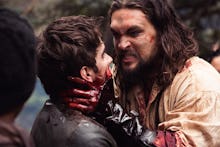 Netflix's six-part drama, Frontier, starring Game of Thrones' Jason Momoa, drops on the streaming service this Friday, Jan. 20. 
The show premiered on Discovery Canada in November, and has already been renewed for a second season. 
Frontier, co-created by Rob and Peter Blackie, revolves around warring factions vying for the control of the wealth and power of the fur trade in 18th-century Canada. 
The show is told from different narratives and takes place in a world in which negotiations were settled with hatchet fights and a lot of bloody conflicts. Alongside Momoa, the show also stars Landon Liboiron, Alun Armstrong, Zoe Boyle, Allan Hawco, Jessica Matten and Shawn Doyle.