What will happen in 'Gotham' season 3, episode 13?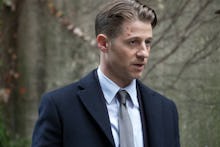 Gotham returned from its winter hiatus Monday night, setting up what should be an exciting next few episodes. The most recent episode, titled "Ghosts," gave viewers their first real glimpse at the cult that rose up following Jerome Valeska's death in season two. While Jerome (played by Shameless' Cameron Monaghan) remains dead, that will not be the case for much longer. 
Dwight Pollard, a Gotham morgue worker and leader of Jerome's underground cult, originally worked for Hugo Strange at Indian Hill, and has begun trying to replicate the resurrections performed at that facility. "Ghosts" ended with Dwight standing in front of a dead, but on ice, Jerome, preparing to resurrect the preacher of chaos. 
In season three, episode 13 of Gotham, Jerome will indeed return from the dead, once again presenting fans of the show with a complicated question: Is Jerome Valeska Gotham's version of the Joker or merely the inspiration for a future Clown Prince of Crime? We may never get an answer to that question, but the next few episodes will help us further determine whether Jerome deserves the query. 
Synopsis and promo for season three, episode 13 of Gotham
Season three, episode 13 of Gotham will be titled, "Smile Like You Mean It," which seems appropriate considering the manic Jerome will be making his return. You can read the official episode synopsis, posted on Comic Book, below:
On the run from Gordon and Bullock, Dwight (guest star David Dastmalchian) tries to ?revive Jerome (guest star Cameron Monaghan) and, in turn, activates his acolytes around Gotham City. Meanwhile, Selina's mom's (guest star Ivana Milicevic) intentions in Gotham are revealed, and the power play between Penguin and Nygma escalates as Barbara's plans are set in place.
Following Monday night's episode, Fox released a new promo teasing Jerome's long-awaited return to the series. You can check out the preview for "Smile Like You Mean It" below:
Gotham airs Mondays at 8 p.m. Eastern on Fox.