'Pokémon Go' 0.53.1 APK: Gen 2 moves and items leak out in latest update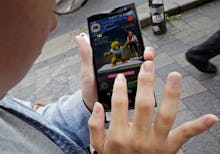 Worried about the future of Pokémon Go? Don't be. Niantic just hit players with a new update — version 0.53.1 — and there's a ton of interesting Gen 2 details buried in the latest APK.
Each update of Pokémon Go makes changes to the game's Android application package, and looking over the APK provides answers and hints as to what's coming next. As usual, the analysts at The Silph Road have laid out everything their research into Pokémon Go update 0.53.1 uncovered.
Pokémon Go 0.53.1 APK reveals 38 new moves for a Gen 2 update
The main Pokémon games add new Pokémon, and with new Pokémon come new fighting moves. Pokémon Go originally drew data from the first game, Pokémon Red and Blue, and now Pokémon Go has begun drawing Pokémon from Gen 2, which means Pokémon Go must also add Gen 2 moves to the game.
That's precisely what Niantic is setting up, according to the analysts at the Silph Road. Code and assets (read: sounds and images) have been found for 38 new moves within the Pokémon Go 0.53.1 APK update. If you look up the moves that were added to Pokémon Gold and Silver, you're going to recognize many of them on the list.
There's no need to set up new moves within Pokémon Go if the Pokémon that use those moves aren't close behind. So we could see more Gen 2 creatures enter the game pretty soon.
Pokémon Go 0.53.1 APK includes names of evolution items from Gen 2
"Evolution items" are old hat for Pokémon veterans, but may be unfamiliar to players of Pokémon Go that don't also play the main Pokémon games. In the main games, some Pokémon can only evolve in conjunction with exposure to evolution items. 
The names of five evolution items have been discovered within the Pokémon Go 0.53.1 APK by the Silph Road research group. Again, there's no need to set the stage for new evolution mechanics unless the Pokémon that use those mechanics are on the way.
Pokémon Go 0.53.1 APK update may be setting up the addition of the Pokémon Unown
The last major piece of news that's been mined from the Pokémon Go 0.53.1 APK has to do with the forms that Pokémon may take. Unown, a Gen 2 Pokémon, does not evolve but has more than one form. 
The Silph Road research group has discovered that several different Unown forms are mentioned in the APK. We can take away from this that Niantic is not only preparing to add Unown to Pokémon Go but is also going to handle the Pokémon with accuracy to the main games.
Make sure to check out the Silph Road's detailed analysis of the APK to learn about the other, smaller updates and hints for the future of Pokémon Go uncovered by Silph Road researchers.
More Pokémon Go guides, tips, tricks and updates
Check out Mic's Pokémon Go tips and tricks. Here are guides on how to get stardust, how to determine how long it will take you to reach Level 40, the kind of Pokemon you get from 10km eggs, how to create new PokéStops, how to maximize your chances of catching Pokémon and how PokéStops distribute Pokémon eggs. Also check out how to catch Gen 2 baby Pokémon, our analysis of post-balance update Chansey and Rhydon and everything you need to know about finding the long-awaited Pokémon Ditto.