'Get in the Way': 4 things to know about the new John Lewis documentary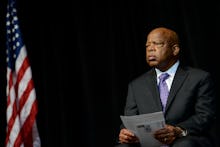 A new documentary will chronicle the life of civil rights champion and veteran Georgia congressman John Lewis. Get in the Way, produced and directed by Kathleen Dowdey, will air on PBS Friday, Feb. 10 at 10:30 p.m. Eastern.
Since joining Congress 30 years ago, Rep. John Lewis has used his platform to fight for a spectrum of issues including voter suppression, immigration reform and health care. Recently, Lewis has been in the news for disapproving of President-elect Donald Trump, and stating that he would not attend his inauguration Friday. 
But there is so much more to honor about Lewis' life before his days as a representative on the Hill. Before you check out Get in the Way, here are four things you should know about the new documentary.  
Lewis' mantra for change
Lewis's philosophy for creating change is "get in the way," and he was sparked by the activism of another civil rights icon, Rosa Parks. He told NPR in 2005: 
I think there comes a time in the life of any oppressed people when the cup runneth over and they say, "Enough is enough." Rosa Parks had seen segregation and racial discrimination.
And on the other hand, I believe there comes a time when there's some force or some power — I call it the spirit of history — that tracks you down and selects you to be that person, to be that vessel, to be the one to get in the way. She taught us — I know she taught me, personally — how to stand up and say no.
His early role in the civil rights movement
The film covers Lewis' early activism days. Before the age of 26, he was part of the legion of brave young people who brought the civil rights movement to national attention. As a student at Fisk University, Lewis was part of organizing protests at Nashville lunch counters, and later he became a chairman of the Student Non-Violent Coordinating Committee. He survived "Bloody Sunday," when Alabama state troopers beat him and attacked other protesters as they attempted to march from Selma to Montgomery in 1965. He was also a keynote speaker at the March on Washington in 1963, where Martin Luther King Jr. made his famous "I Have a Dream" speech.  
Early encounters with Jim Crow
As a child of sharecroppers in rural Troy, Alabama, Lewis was surrounded by segregation signs and he began to question why things were the way they were. "I grew up in rural Alabama. ... I saw those signs that said 'white men [only],' Lewis says during one clip in the forthcoming documentary's trailer. Lewis further reflected, "I would ask my mother, 'Why?' She said, 'Don't get into trouble.' But I got in trouble."
Hero for human rights
At the age of 76, Lewis continues to stand up. Last year, he led a sit-in with House Democrats to demand a vote on gun-reform laws, after 49 people were killed in a shooting at a gay nightclub in Orlando. He also continues to speak out against changing voting rights laws and on the importance of protecting them. Lewis was awarded the Presidential Medal of Freedom in 2010. 
President Barack Obama himself has called him a hero: "It is a rare honor in this life to follow one of your heroes. And John Lewis is one of my heroes," said Obama at an event honoring the 50th anniversary of the Selma marches.