Lin-Manuel Miranda promises Chicago 'Hamilton' performance for commuted Puerto Rican nationalist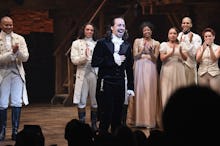 While much of the news about President Barack Obama commuting the sentences of over 200 prisoners focused on the shortened sentence of Chelsea Manning — and justly so — others are celebrating the commutation of the sentence of Puerto Rican nationalist Oscar Lopez Rivera. Most notably, one of the most influential Puerto Rican-Americans, Lin-Manuel Miranda, shared his delight over Rivera's commutation through Twitter. 
Miranda, whose Broadway smash Hamilton was nominated for an unprecedented 16 Tony Awards in 2016, added in subsequent tweets that he wants to invite Rivera to a performance of the musical in Chicago, which opened in the city in October. While Miranda no longer performs the role of the titular Alexander Hamilton, he said it'd be his "honor" to do so on the night Rivera would attend. 
Rivera was linked to the pro-Puerto Rican independence group FALN, responsible for over 100 bombings in the United States in the 1970s and 1980s, before he was sentenced to 55 years in prison in 1981. In 1988, he was given an additional 15 years for a failed escape attempt. But as Mother Jones previously reported, many Puerto Ricans believe Rivera's lengthy sentence — having served over 30 years — is "very disproportionate." Following Obama's commutation, Rivera's sentence is now due to expire on May 17.
While Rivera's commutation by Obama is not without its critics, particularly on the right, Miranda's gesture for the man often described as the Puerto Rican Nelson Mandela would be the Hamilton creator's first reprisal of the title role since stepping down in July. As if tickets to see Hamilton weren't already difficult to obtain, a one-night performance from Miranda would certainly draw more buzz.