How good of friends are Chuck Schumer and Donald Trump?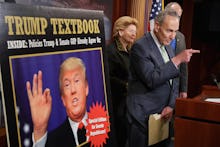 As Donald Trump prepares to start his administration, he may find that one of his principle adversaries on Capitol Hill is actually someone he knows quite well: New York Senator and new Senate Minority Leader Chuck Schumer.
The exact nature of the men's relationship is a bit murky, but we have some background on the alleged friendship between them. Before he became a Republican and started seriously toying with running for president, Trump was a big donor to Schumer's senatorial election efforts — in fact, no other Senator received more campaign donations from Trump than Schumer. This makes sense. Trump lives in New York City and Schumer was his representative in the Senate for many years.
Schumer, though, seems to want to get out ahead of any accusations that he is going to be a friend to Trump now that they are both in Washington. In an interview with Politico shortly after Trump was elected, the new Democratic Senate leader said that Trump was "not my friend."
"We never went golfing together, even had a meal together," he told Politico. The article stressed that Trump told a different story, saying on MSNBC that he knew Schumer well and had in fact always gotten along well with him.
Even if they aren't good buddies, Trump and Schumer have spoken since the election. Politico reported in December that the two have had several long phone conversations, focused on everything from potential appointments to possible policies. Sources told Politico that Schumer thinks he can "maneuver" Trump.
Since the new year, though, the relationship seems to have grown frosty. Schumer said on MSNBC that he thinks the Democrats can "nail" Trump. "90 to 95% of the time, we'll be holding his feet to the fire, holding him accountable. But we're Democrats, we're not going to just oppose things to oppose them," he told CNN. He's also started to push back against some Trump decisions. For instance, he chastised Trump for allegedly considering the firing of Rich Cordray, head of the Consumer Financial Protection Bureau.
Trump has also gotten nasty, calling Schumer a "clown" on Twitter:
The next few months should be fun.