Oklahoma State University students celebrated Martin Luther King Jr. Day in blackface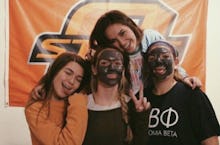 Not all millennials are as anti-racist and woke as you think.
Two white female students at Oklahoma State University are facing online backlash after a photo of them wearing blackface — in honor of Martin Luther King Jr. Day, mind you – was posted on Instagram.
The Instagram post, uploaded on Monday, included the caption: "Celebrating our first MLK Day off school!!!!" 
Oklahoma State's African-American Association discovered the photo and tweeted: "What a shame that some Cowboys have exposed such an ugly side of themselves. OSU, what are you going to do? @okstate." The organization also gathered allies to bring attention to the racially insensitive photo. Other Twitter users, presumably from Oklahoma State, chimed in as well:
One student, trying to justify the offensive photo, claimed the students wearing blackface like to wear face masks, citing that they might not be aware of the insensitive message.
"I wouldn't think twice about posting a picture with a dark face mask on because I know it's just a beauty product and no harm is intended," the student wrote. "Why would it be any different to post a picture in a black/grey face mask on any other day?
Through the efforts Oklahoma State's AAS, the university administration issued a response on Twitter condemning the actions of those students. According to the university, the photo was deleted from Instagram and the students are expected to meet with administration officials.
The university sent the following statement to Mic:
"Oklahoma State University met with the four students in the photo Tuesday and discussed the ramifications of their post, which was removed shortly after the university was made aware of it and requested the students take it down. In the meeting, the students apologized for the post and the harm it caused. We made it clear to the students that OSU does not condone acts, behavior, language, or symbols that represent or reflect intolerance or discrimination. The university is still evaluating the situation to determine appropriate action.OSU has regularly been recognized as a leader in diversity and this incident is not reflective of the university's expectations as an institution and community."