6 things to know before 'Frontier' premieres on Netflix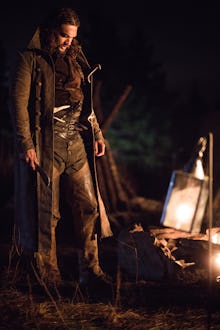 Frontier, the six-episode Jason Momoa series centering around the fur trade in the 18th century, drops on Netflix Friday, Jan. 20. Ahead of the show's release, here's everything you need to know about the action-packed, historic series. 
Its bloody history lesson
The series is a dramatic portrayal of the very violent struggle to control wealth and power in North America during the 18th-century fur trade. 
The show is told from different characters' perspectives, and the six-episode series is set during a period when negotiations over business were better resolved with hatchet fights and a lot of bloody battles. 
The first scripted series for Discovery Canada
Discovery Canada is known for its wildlife series and historical documentaries, but last year the network made its first-ever foray into the scripted world. Frontier premiered in Canada in November 2016. 
The already-renewed second season
Discovery Canada was so confident in Frontier that it was renewed for a second season before it even premiered. For Ken MacDonald, the vice president and general manager of the network, the decision was a no-brainer. "We knew we'd created a uniquely immersive world and story that begged for expansion to a second season," he said in a statement. "Our decision to begin filming another six episodes before the series' world premiere is a testament to our confidence in Frontier's world-class storytelling."
Jason Momoa's real-life research
In a Q&A with USA Today, series star Jason Momoa talked about how he brushed up on his history before filming, but brought a lot of himself and his humanity to the role of Declan Harp. "I did a lot of research, but the thing that was most useful for me is just relating it to my life," he said. "Just being a father, if anyone were to do the same to my family, what would I do? There's a lot of stuff I can read and look up, but there wasn't one fact that set me off. It was actually me wanting to play in that time period."
No naked Momoa 
Unlike in his role as Khal Drogo on Game of Thrones, for Frontier, Momoa was was allowed to keep his clothes on. The two roles aren't that comparable, he admitted: "Khal Drogo is one of those roles that shows up once in a lifetime. I got to play a character who's so far away from who I am, in a language that obviously I didn't speak. So that was definitely harder, but they're both enjoyable. I really love this role."
The binge-watch potential
Frontier premieres on Netflix Friday, Jan. 20. The first season consists of six episodes, which seems like the perfect amount for canceling all your plans and staying in on a Friday night.