The one key question Wilbur Ross avoided in his commerce secretary confirmation hearing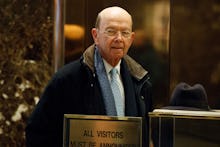 It's a busy day for President-elect Donald Trump's cabinet picks.
On Wednesday, Senate committees will hear from nominees to lead the Environmental Protection Agency, the Department of Health and Human Services, the U.S. Ambassador to the United Nations and the Department of Commerce.
Though he's not as controversial as others on the docket, that last Trump pick, Wilbur Ross, stands to assume a surprisingly wide range of responsibilities if confirmed — and those powers extend beyond what many Americans might think of as "commerce."
While the commerce secretary obviously influences policy affecting the prices of products you buy, his duties would also include advocating on behalf of immigrant workers, as well as shaping the U.S. response to climate change.
As Politico's Eric Geller noted on Twitter, Ross demurred when asked Wednesday if he believes the science on climate change is definitive.
He said instead, "I believe that science is science, and scientists should perform science."
When the topic of climate change came up a second time near the hearing's end, Ross demurred in a similar fashion, saying he respects NOAA's credibility — but refusing to say whether he believes their findings about climate change were "valid," saying "It's very hard for me, Senator Nelson, to parse which part of data is what," according to the New York Times transcript.
Ross has drawn skepticism from climate activists in particular over his extensive fossil fuel holdings; still, unlike the president-elect he has started to take steps to divest many of his holdings. Businesses bearing his name will be renamed, according to a Financial Times report.
Here is the key information everyone should know about Ross — and the reason his true stance on climate change is so important.
Ross has a controversial past.
Trump and Ross have a long history — Ross' business background is in turning around struggling companies, and back in the 1990s he helped Trump turn around his failing casino business. 
Ross's work on Wall Street has made him a billionaire, and he will likely be the wealthiest person in Trump's cabinet. 
That is unlikely to help his confirmation, particularly given that Ross has already drawn fire from the committee over his hiring of an undocumented worker, his business conflicts of interest and his connections to the oil and gas industry. 
Back in 2014, a viral New York Magazine expose about Ross's secret Wall Street fraternity depicted him hazing new initiates, making homophobic jokes, and boasting about Wall Street's role in the financial crisis.
Some of the decisions he made while restructuring companies in the steel industry could also draw fire from the left as well: At least one mine overseen by Ross was accused of having lax safety standards, and a 2006 mine collapse killed 12. 
Ross will negotiate on behalf of American workers — and consumers
The Commerce Department is often described as "sprawling" because of its many responsibilities, but one of the most important is overseeing the United States' trade agreements — which could affect the incentives companies have to hire American versus foreign workers and lower or raise consumer prices.
Though he once supported the Trans-Pacific Partnership, Ross will likely be tasked with fulfilling Trump's campaign promises regarding trade, which include a proposal to try and renegotiate NAFTA — our agreement with Canada and Mexico — and other deals with nations that buy the vast majority of American products.
His sometimes skeptical approach to trade deals is expected to give Ross a degree of bipartisan appeal, thanks to trade-skeptic Democrats like Massachusetts Sen. Elizabeth Warren. 
That said, Ross is an awkward champion for American workers: a recent analysis of government records from Reuters revealed that in his work restructuring companies, Ross has sent some 2,700 jobs overseas through off-shoring since 2004. 
Ross will also play a major role in the climate change debate. 
While trade has been the main focus of discussion over Ross, the Commerce Department also plays a major role in determining how the U.S. will respond to climate change. 
The commerce secretary oversees the National Oceanic and Atmospheric Administration, which tracks storms, monitors environmental damage — and until now has been a leading authority in warning Americans about the threat climate change poses to human safety.
Ross could also recommend that the U.S. withdraw from the Paris Agreement, the seminal global treaty to address climate change.
Scientists warn that if international leaders don't commit to the Paris treaty's terms, consequences could include irreversable increases in global temperatures that would exacerbate natural disasters and disease — and wreck the world economy.
Incidentally, Ross's hearings are the same day as the hearings for Trump's controversial pick to run the EPA, Oklahoma Attorney General Scott Pruitt, a noted climate change doubter. 
Jan. 18, 2017, 3:03 p.m.: This story has been updated.
Sign up for The Payoff — your weekly crash course on how to live your best financial life.