How to save 'Overwatch' highlights on PS4, Xbox One and PC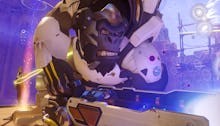 The best part of a multiplayer game like Overwatch is sharing your most triumphant (or most horribly embarrassing) plays with your friends. Luckily, Overwatch automatically saves plays from your last few games in the "highlights" menu — but once you log out, they vanish.
Overwatch director Jeff Kaplan recently confirmed that Blizzard is working on a better highlights system — one that will let players save them permanently — but until then, there are plenty of tools you can use to record them manually.
How to save Overwatch highlights on PC
If you have Windows 10, you can just use its built-in game DVR feature to record a highlight. To bring up the overlay, hit the Windows button and the "G" key. From there, you can start recording or take a screenshot.
If you don't have Windows 10, you still have options. According to Shacknews, you can either use the built-in recording options that come with NVIDIA and AMD GPUs, or download third-party game recording clients like PlayClaw or Fraps.
How to save Overwatch highlights on PS4
On your PS4, the best way to save your highlights is by utilizing the "share" button to the left of the touchpad. Before you try to use it, you should check your settings to see how it's configured. To do so, go to "settings," then "sharing and broadcasts." 
For example, I have mine programmed to take a screenshot when I tap it once, but it will bring up a sub-menu for video recording and social media sharing when I hold it down.
Here's an example of a clip I recorded and posted to Twitter, all from the PS4:
You should also check how much time your PS4 will record when you hit "save video clip." I have mine set to record the last five minutes, but you can program it from just a few seconds all the way up to an hour.
To record one of the pre-made highlights from within the Overwatch highlights menu, you'll just have to watch the video clip, then use the share menu to save the footage retroactively.
Once you save the video clip, you can trim it down to just the 10 seconds or so that you want. To do this, go to "settings," then "system storage management" and then "capture gallery." Find the clip you want, hit "options" and then "trim." Once you've saved the new clip, you can hit "options" on it again and copy it to a USB flash drive or post it to Twitter or Facebook using the "share" menu.
How to save Overwatch highlights on Xbox One
There are two ways to record footage on the Xbox One. You can either record the last 30 seconds of gameplay to capture an amazing moment immediately after it happens, or you can start and stop a recording manually, which is useful if you're recording from the in-game "highlights" menu.
To record the last 30 seconds of gameplay, double-tap the Xbox button and then hit "X."
To initiate a recording manually, double-tap the Xbox button and then scroll down to "snap an app" and select "game DVR." Hit "start new clip," then double-tap the Xbox button, navigate to the bottom of the screen and select Overwatch to switch back over to that portion of the screen. Play the highlight, then double-tap the Xbox button again, switch back to the game DVR app and hit "stop recording."
Next, select "view all captures." If your clip isn't showing up, you might have to use the menu buttons at the top of the screen to show clips saved on your Xbox's hard drive rather than those saved in the cloud. Once you find the clip, use the menu button on your controller to trim it down and upload it to OneDrive. You can then access this clip on your computer by going to the OneDrive website or on your smartphone using the OneDrive app. From there, you can post it to social media or text it to your friends.
More Overwatch news, updates, tips and tricks
For more on Overwatch, check out the rest of what Mic has to offer. Here is a full explanation of the different types of health in Overwatch, the latest rumor of a Terry Crews-voiced Overwatch character, an update on that Mei ice wall exploit, hilarious video of a play of the game involving the jump pad on Oasis, a roundup of the best Overwatch plays of the week, our definitive ranking of every Overwatch hero and a giant Overwatch FAQ for beginners.