When does 'Arrow' return in 2017? Everything we know about the second half of season 5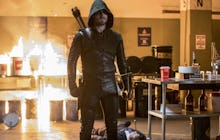 After what was largely a disappointing fourth season, Arrow has very much returned to form this year. Season five of the series that launched the CW's DC television universe has been a marked improvement, bringing the series back to its roots. Luckily, we don't have to wait much longer to see more. 
Arrow will return to the CW for the back half of season five on Wednesday, Jan. 25 at 8 p.m. Eastern. Last we saw Arrow, Oliver Queen and his team were dealt a devastating blow at the hands of the season's primary villain, Prometheus. Not only was it revealed that Artemis was feeding information to the big bad, but Prometheus also manipulated Oliver into killing Felicity's boyfriend. 
Further, while not explicitly revealed in the episode, it sure looks like Prometheus had something to do with John Diggle's most recent arrest. When Arrow returns, Oliver will have to deal with the continuing threat posed by Prometheus, as well as the mysterious circumstances surrounding the reappearance of Laurel Lance. 
Midseason premiere synopsis and promo
Season five, episode 10 of Arrow, titled, "Who Are You?" will follow a fractured Team Arrow, desperate to defeat Prometheus. Of course, following the fall finale, the question looming largest is not Prometheus' identity, but how Laurel Lance returned from the dead. 
Unfortunately, the CW essentially spoiled the mystery when they aired the episode's promo several weeks ago — a decision that did not thrill co-showrunner Marc Guggenheim. Still, whether you have already figured out how Laurel Lance has returned or are still in the dark, Katie Cassidy's reappearance in the series is more than welcome. 
You can check out the synopsis and promo for "Who Are You?" below (skip over the promo if you are not a fan of spoilers):
OLIVER WANTS JUSTICE; FELICITY WANTS REVENGE — Worried that Prometheus is right and he is truly a killer at heart, Oliver (Stephen Amell) looks for any ray of hope and finds it in what seems to be the miraculous return of Laurel Lance (guest star Katie Cassidy). However, Felicity (Emily Bett Rickards), still reeling from Detective Malone's murder, is bent on revenge — she wants to stop Prometheus at any cost. While in prison, Diggle (David Ramsey) fights for his life. Gregory Smith directed the episode written by Ben Sokolowski & Brian Ford Sullivan.
A major Batman character will play a vital role
To fans of comics, it has not been a secret that Green Arrow has essentially become the CW's version of Batman. In Arrow, Oliver Queen is considerably more brooding than his comic counterpart and utilizes detective skills more akin to the Dark Knight than the Emerald Archer. Further, several of Arrow's main villains have come straight from Batman comics. 
Season two's main villain, Deathstroke, is primarily a villain of the Teen Titans and Batman in the comics. Season three's big bad, Ra's al Ghul, is perhaps one of Batman's greatest adversaries. Further, Ra's League of Assassins (again, primarily a group associated with Batman) has played a rather large role in Arrow. 
Now, yet another character largely associated with Batman will be making an appearance on Arrow. Variety reported several months ago that Ra's al Ghul's daughter, Talia, will be played by Lexa Doig in season five of Arrow. While Nyssa al Ghul has already featured several times on the show, Talia is unquestionably the more notorious of Ra's al Ghul's daughters. Talia is primarily an antagonist and love interest of Batman's, and is the mother of Bruce Wayne's son, Damian, the current Robin in the comics. 
It certainly is possible that Oliver will assume the role of Batman once more, and will become a love interest of Talia's. After all, much of season three revolved around Ra's al Ghul trying to name Oliver as his successor, a plot essentially picked right from the pages of Batman comics. And Talia's appearance is likely to be much more than a cameo, as executive producer Wendy Mericle told TV Line that she will play a "crucial part" in solving one of the season's largest mysteries: Prometheus.
We will see a much different Felicity going forward
One character who will be seeing a bit of an evolution is Felicity Smoak. As previously discussed, Felicty's boyfriend, Detective Malone, was killed by Oliver while he was in pursuit of Prometheus. While it would be easy for Felicity to blame Oliver, she will be setting her sights on someone else. 
Mericle told TV Line that "One thing Felicity is not going to do, I can tell you for sure, is blame Oliver. She recognizes the manipulations that have led to this situation." Mericle added that "[Felicity's] heart is broken in that last moment for Oliver and for Malone and for herself."
Detective Malone's death is going to send Felicity into a very different direction than we are accustomed, Mericle teased. "Felicity has set her sights on Prometheus," she said. "This season we have said we're going to take her to a darker place, and you're seeing the genesis of the reason why, right here."
Arrow returns to the CW on Wednesday, Jan. 25 at 8 p.m. Eastern. 
Mic has ongoing coverage of Arrow. Please follow our main Arrow hub here.