'Mercy Street' season 2 premiere date, trailer, cast and more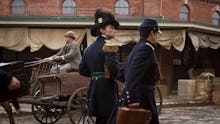 Mercy Street, the PBS medical drama set during the Civil War, will expand its story beyond the Union Army hospital when it begins it second season Sunday.
The first original drama on PBS in more than 10 years, Mercy Street will air six episodes in its second season, which executive producer Lisa Q. Wolfinger described to the Hollywood Reporter as "more ambitious." The expanded settings will include battle scenes and more action set outside of the hospital as well as a love triangle and complications involving advances in medical technology. 
Per a PBS press release:
Season two picks up directly from the dramatic events at the end of the season one finale, continuing to explore the growing chaos within Alexandria, the complicated interpersonal dynamics of Dr. Foster, Nurse Mary and the Mansion House staff, the increasingly precarious position of the Green family and the changing predicament of the burgeoning black population. The season will introduce a number of new elements, taking us closer to the fight and into the halls of Confederate power, all set against the intensifying war, starting with the Seven Days' Battle and culminating with Antietam.
The show was noted for its ambitious storytelling as well as its matter-of-fact portrayal of the unsanitary conditions of the hospital and of the sort of wounds suffered during the war. To ensure accuracy in depictions of battle scenes, as well as other historic elements of the show, which is set in Alexandria, Virginia, PBS hired Civil War re-enactors and stuntmen. 
The season two cast includes Mary Elizabeth Winstead, Josh Radnor, Gary Cole, Hannah James, Brad Koed Jr., Norbert Leo Butz, Tara Summers, McKinley Belcher III, Jack Falahee, AnnaSophia Robb, Donna Murphy, Suzanne Bertish and Luke Macfarlane as well as Patina Miller, Bryce Pinkham and Bryan F. O'Byrne.
Mercy Street season two debuts Jan. 22 at 8 p.m. Eastern.