Bernie Sanders pops up at Paris Fashion Week courtesy of Balenciaga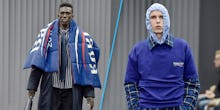 At the Balenciaga show at Paris Menswear Fashion Week on Wednesday, models walked the runway looking like they had just emerged from a time capsule from 1989. 
There were oversized suits, puffy jackets and long raincoats. The overall colorscheme was that of a cubicle-ridden corporate office. It was pretty Office Space chic, if you will. 
But then a man walked down the runway in a blue jacket with a familiar logo on the back, and present-day politics invaded the collection. 
Think hard. 
Come on, you know that font and logo. 
Yup, that's right.
That guy again. 
Bernie Sanders, aged 75, just made his way onto the runway at Paris Fashion Week. Or rather, his logo did. 
For reasons still unknown, the fashion house Balenciaga decided to send a few items down the runway that combined the Balenciaga name with Bernie Sanders' campign logo, including a blue jacket, a larger shawl emblazoned with the logo and a T-shirt. 
Apparently Balenciaga is #StillWithHim. If only Sanders had thought of this collaboration sooner. 
Mic has reached out to Baleciaga for comment.