LGBTQ activists explain why they're throwing a queer dance party outside Mike Pence's house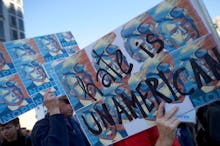 At the end of this week, Vice President-elect and notoroious anti-LGBTQ politician Mike Pence and his family will be moving out of their temporary residence in D.C.'s Chevy Chase neighborhood and into the posh Naval Observatory. That soon-to-be former neighborhood is the same that trolled Pence by adorning stoops with rainbow pride flags in December. Before he leaves, one group is gearing up to throw him a going away party, providing him with one last look at the queer side of America he'll soon have to represent.
Over 700 people have confirmed their attendence to the Queer Dance Party at Mike Pence's House, a protest action organized by WERK for Peace and DisruptJ20, designed to send a message to "Daddy Pence" that "homo/transphobia is not tolerated in our country," according to the event's Facebook page.
"We've got loud music, awesome [biodegradable] glitter, rainbow suspenders, glow sticks and other rainbow paraphernalia," Firas Nasr, founder and organizer of Werk for Peace, said in a phone interview. They plan to take the party right to Pence's doorstep and "make sure he knows we're queer and we are here."
Werk for Peace was founded after 2016's shooting at the Pulse night club in Orlando, Florida, where 49 people were killed. The group has engaged in anti-Trump flash mobs, die-ins and dance parties in front of the NRA offices.
"The work that we do is about taking our bodies out of the private into the public, using the street as our dance floor to claim space, occupy space to assert we are here and we will dance," Nasr said.
The idea for this particular event, which will take place Wednesday from 6 p.m. to 9 p.m., was created in partnership with DisruptJ20, an organization attempting to disrupt Trump's inauguration proceedings.
"We came up with this collective idea for action that is not only political, but also creative and fun," Nasr said. "Oftentimes, when we think about protest, it ends up staying in the political sphere, and we forget about our physical bodies and the actual movement our physical bodies can create and what that means for a movement."
Pence makes a fitting target for the queer-based grassroots movement, considering he's gone on record asserting that gay marriage would signal "societal collapse." He's advocated for conversion therapy, a controversial practice that strives to alter the sexual preferences of gay and lesbian individuals, arguing it would be a better use of federal dollars than HIV and AIDS research in 2000. Pence was also instrumental in signing the Religious Freedom Restoration Act into law in Indiana, allowing businesses to discriminate against LGBTQ individuals in accordance with their employees' personal religious beliefs.
Nasr said that, before Pence is sworn into the second-most powerful seat in the country, he needs to see that "biogtry in our country is not OK." Additionally, Nasr noted that he welcomes any and all peaceful counterprotest.
"I feel it's very patriotic to protest and I would say that on both sides," Nasr said. "I personally have lot of respect for protest from more conservative groups. If they feel like they requre voice needs to be heard, they should have space to share that voice and not silence that voice."
Nasr hopes the party's bold affirmation that queer lives matter will provide an opportunity to promote dialogue across the country, not silence it.
"A big issue in America is that we're not listening to each other; we're talking past each other," he said. "We're doing so to gain more attention without dealing with the underlying issues that are present. 
"I'm not a philosopher and I'm not a politician, but I am an activist, but I do feel like on both ends, from the conservatives to the liberals, peaceful protest is not only powerful but extremely necessary in a democratic process."