Waka Flocka Flame uses Donald Trump jersey to wipe his butt at Georgia concert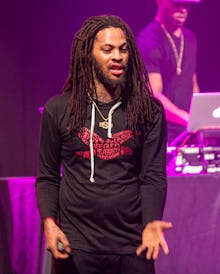 In the days leading up to President-elect Donald Trump's inauguration on Friday, Jan. 20, celebrities have continued to voice their opinions on him and his dogmatic goal to make America great again. Now rapper Waka Flocka Flame has joined the ever-growing list in the most interesting way. 
Wednesday, TMZ shared video of the rapper taking a fan's Donald Trump jersey in the audience at his recent concert in Georgia and using it to wipe his bare ass.
It seemed to all happen in a lightning bolt moment of inspiration. The rapper noticed the fan's Trump jersey and asked him to pass it up to the stage. He then took it, pulled down and his pants and inserted it between his butt cheeks, mid-performance, making it very clear how he feels about the president-elect. The crowd cheered as Waka threw the jersey to the stage.
The question remains: how deep was that fan's commitment to the Trump administration? Did he retrieve the jersey, stank and all? Or did he let it head to the trash as a symbol of Waka Flocka's resistance? Some mysteries are better left unsolved.