Will Melania Trump live in the White House? Here's what we know.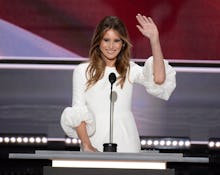 President-elect Donald Trump has said soon-to-be first lady Melania Trump will be traveling between New York and Washington D.C. until at least June, when their son, Barron, finishes school. 
In November 2016, the New York Post reported Melania would travel to the White House as needed, but Barron's school duties would remain her top priority. 
Though Melania will not be a permanent resident in Washington — at least for the next six months — she already has plans to make changes at the White House. According to New York Magazine, Melania and Donald Trump want to set up a "glam room" designed for hair, makeup and wardrobe. 
"Melania wants a room with the most perfect lighting scenario," Nicole Bryl, Melania's makeup artist, told Us Magazine, "which will make our jobs as a creative team that much more efficient, since great lighting can make or break any look."
There is no law requiring the first lady to live in the White House.