Trump Impeachment Odds: Here's how people are betting on a quick White House exit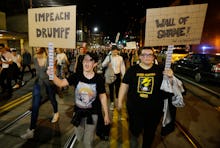 The Irish bookmaker Paddy Power is taking bets that Trump won't last six months in the White House — and the odds are pretty good. According to the betting site, the odds of Trump being impeached in his first six months are currently listed at 4-1.
Other "Donald Trump Specials" offered on the site include bets on whether or not Trump won't be inaugurated on Jan. 20 (currently 20-1 odds), that he'll paint the entire White House gold (500-1) or that the "golden shower" footage will appear on RedTube, a site that hosts free porn videos (5-1). The International Business Times reported that the U.K.-based bookmaking company Ladbrokes opened bets that Trump wouldn't complete his term shortly after the election. When the betting opened, odds were 3-1 but are now 50/50. Currently, Ladbrokes Coral's odds that Trump will be replaced in 2017 are 4-1.
But gambling sites aren't the only ones getting in on the impeachment predicting game. Allan Lichtman, the "prediction professor" whose "Keys to the White House" have correctly predicted who would win the presidency in every election since 1984 told CNN, "There's a very good chance that Donald Trump could face impeachment."
Lichtman, a political historian and history professor at American University in Washington D.C, explained that "throughout his life [Trump] has played fast and loose with the law" noting that the president-elect has "run an illegal charity in New York state. He has made an illegal campaign contribution through that charity. He has used the charity to settle personal business debts. He faces a RICO lawsuit." And if that's not impeachable enough for the GOP-held Congress, Lichtman notes that Republicans are nervous about Trump and would rather deal with Mike Pence:
"He is a loose cannon. Nobody knows what he really believes or really where he stands. He can't be controlled. The Republicans would vastly prefer to have Mike Pence, an absolutely predictable down-the-pipe conservative Republican."
For 4-1 odds, you can bet there are a lot of gamblers hoping Lichtman is right yet again.