Android Nougat Features: 6 things you can do that you couldn't do before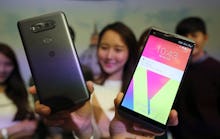 Android Nougat, version 7.0 of Google's popular operating system, is here — so say farewell to Marshmallow. The sweet new OS is being rolled out to select smartphone owners this week.
The system update, initially released in beta in the spring, includes battery improvements, notification updates and — welcome to the future — virtual reality software. Some of the user-facing updates are more obvious than others and may require some time to uncover and unlock. 
Here's a look at the top features from Android 7.0 you need to know about and more importantly what they do.
Android Nougat features: Multiple window support
One of Nougat's most interesting features is what the company is calling its multi-window support. It allows users to run and view more than one app side by side, or vertically in "split-screen mode." Need to check your email and text at the same time, or chat with friends while searching the net? It's now possible. Multi-window support is a welcome update; a similar feature was previously only available through customized Android skins or other third-party apps.
A special "picture-in-picture" mode also lets owners with Android TVs or large-screen devices stream videos while browsing other content. 
Android Nougat features: Revamped notifications
Android users will now be able to receive and answer messages faster and in real time, courtesy of a revamped notification system that doesn't require individuals to exit the phone's notification panel, also known as the "shade."
Meanwhile, its new bundled notifications group messages and updates by app (rather than individually) for a cleaner aesthetic. For instance, two separate alerts from friends using a messaging app will show up bundled together on one card, which can later be expanded and viewed individually by tapping on the screen.
Android Nougat features: Security enhancements
Google has updated its underlying Android security and streamlined software updates that allow for new security tools to download in the background.
Meanwhile, the Direct Boot feature lets in-phone apps continue to communicate and receive information before a passcode has been entered and the phone is unlocked. This way, you're less likely to miss your morning alarm or work email when restarting your device. 
The system's file-based encryption helps protect an individual's profile and data by securing information at the file level instead of the system level.
Google's Trusted Face feature is more of an update on the existing technology found in the previous OS, rather than a completely new service. Phones that have the feature will still allow individuals to securely unlock their phone using their face. This version promises to work better in poor lighting conditions and after superficial changes to your appearance (think: facial hair and eyewear).
Android Nougat features: Improved support and more emojis
Doze, a feature first introduced in Marshmallow, remains a core feature in the new update. Thankfully, Google has done some heavy-duty lifting to improve the battery-saving feature. 
Previously, its operating system would only kick into energy-saving mode when stationary, like when it's idling on a desk. Now, the feature Doze on the Go will turn on the phone's low-power options even when on the move, making it easier to remain charger-less for longer during the day.  
"Any time the screen is off for a period of time and the device is unplugged, Doze applies a subset of the familiar CPU and network restrictions to apps. This means users can save battery even when carrying their devices in their pockets," Google explained on its developer site. 
New emojis offer up the ability to customize skin tones and include more gender choices for occupations. For example, its emoji ecosystem still features original options like the male police officer and smiley faces alongside new emojis like the female mechanic, same-sex families and more.
Android Nougat features: More languages
Gone are the days when multilingual smartphone owners were forced to choose one language over another for all their communication needs. Android 7.0 makes it possible to easily switch between different languages on demand for a better overall experience. It includes the option for people to return search results in their preferred dialect.
The number of languages available also got a boost. The list now includes "more than 25 variants each for commonly used languages such as English, Spanish, French and Arabic" and partial support for another 100 additional new languages.
Android Nougat features: Virtual Reality on demand
VR enthusiasts will likely get a kick out of DayDream, Google's new platform that promises to immerse users in the company's unique smartphone-based virtual world. Visit galaxies far, far away or museums located on the other side of the world without having to get leave your home. Unfortunately, most Android owners probably won't have the opportunity to try out DayDream just yet: The system's stiff hardware requirements are supported by only a handful of phones.