People's Choice Awards 2017 start time, channel, perfomers and more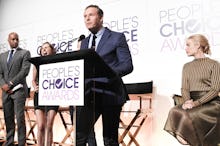 While the Academy Awards may be the biggest prize in entertainment, it's the People's Choice Awards that reward a diversity of works — films, television shows, performers — that most resonate with the people. While the Oscars will likely award their best picture to a film like La La Land, Moonlight or Hidden Figures — all tremendous cinematic achievements — the movies vying for favorite movie are decidedly more mainstream.
Captain America: Civil War, Deadpool, Finding Dory, Suicide Squad and Zootopia are all nominated for favorite movie, each grossing over $700 million worldwide. The winner in the same category in 2016 was 2015's smash hit Furious 7, which ultimately grossed over $1.5 billion worldwide. 
If you want to make sure you catch all the action the People's Choice Awards 2017 has to offer, here is what you need to know so you do not miss a thing.
When and where to watch the People's Choice Awards 2017
The People's Choice Awards 2017 will air live Wednesday, Jan. 18, at 9 p.m. Eastern on CBS. (The show will have a delayed airing on the West Coast.) If you won't be near a television but still want to watch the program live, you can do so on CBS' website provided you have an internet connection and a cable subscription. 
Who will be hosting?
Community's Joel McHale will host the People's Choice Awards 2017. McHale has previously served as the headliner at the 2014 White House Correspondents' Association annual dinner and was the host at the 2011 Independent Spirit Awards and the 2015 ESPY Awards. This will be his first time hosting the People's Choice Awards, taking over for Jane Lynch, who hosted the 2016 ceremony. 
Who will be performing and in attendance?
Fifth Harmony and The Voice's Blake Shelton will be performing at this year's People's Choice Awards. In addition, several A-list stars have confirmed they will appear at the show, including but not limited to Robert Downey Jr, Tom Hanks, Jennifer Lopez, John Stamos, Kristen Bell and Ellen DeGeneres. 
Can I still vote?
While several of the categories' voting periods have already closed, if you want your voice to be heard, voting is still open for favorite new TV comedy and favorite new TV drama. You can vote on both categories here. 
The People's Choice Awards 2017 will air Live on CBS, Jan. 18 at 8 p.m. Eastern.