3 secrets to saving money — and the environment — by making your clothes last forever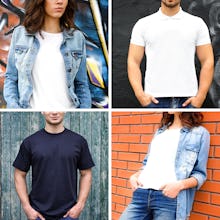 "Fast-fashion" is undeniably fun — especially if it helps you look baller despite a budget that's anything but.
Yet you get what you pay for, and cheap clothes tend to fall apart quickly; it's little surprise we tend to go through new items like disposable paper plates.
Indeed, over your life of clothes-wearing and bag-toting, buying more expensive and better quality goods — that can be repaired affordably — will save you money.
It will also help protect the environment.
Americans get rid of 82 pounds of clothing or textiles a year, on average, and only 15% of that gets donated or recycled, according to the Council for Textile Recycling. The rest of our cast-offs, 70 pounds per person a year, heads to the landfill. And that amount is growing: Between 1999 and 2009 textile waste increased by 40%.
Shoes can be even worse. A material called ethylene vinyl acetate that is often used in the midsoles of running shoes can take 1,000 years to break down.
Before piling on to the problem (and throwing your own good money after bad), why not try to resuscitate, rehabilitate, repair and rehab your old shoes, clothes, bags and housewares?
Here are the most cost-savvy and environmentally woke ways to make your well-loved threads last — plus tips on brands that will work with you to extend the life of your purchases.
Resole your favorite pair of shoes
Your shoes — especially if you live in an urban or pedestrian-friendly city — can grow to feel a bit like your comrade in arms given all you've been through together (gum, poo, that elevator door).
Unless your buddies' wear and tear is actually causing your feet physical pain, you should rejuvenate your shoes by getting them repaired or resoled.
Google-map your closest cobbler — yes! they still exist, and some will haggle — for a quick enhancement.
Alternatively, send your well loved shoes — of any make or style — to an online repair service like NuShoe, which has exclusive repair programs for particular brands (like Ecco, Birkenstock, Finn Comfort as well as Army and Navy uniform boots) but also restitches, reheels, resoles and renews shoes from sandals to cowboy boots.
For the particular peccadilloes that women take out on their shoes there is My Shoe Hospital specializing in repairs of women's shoes (although it fixes men's shoes, too), including high-end and fashion boot styles.
When shopping for new shoes, look for brands that offer ways to increase the value of your shoes through repair or replace programs. Sometimes they are free and sometimes there is a fee, but it can be half the price of buying a new pair outright.
The Dr. Martens company has a "For Life" program, which is a lifetime guarantee on certain models of shoes or boots. If you wear them out, the company will repair or replace them.
Russell Moccasin Co. will repair, resole and rebuild their boots and shoes. The company even offers "relasting" for $26, which involves rewetting and reforming the leather to bring back some of its elasticity.
Remember that spending more money upfront on shoes that last will be less costly in the long run than buying cheap footwear you have to throw away after each season.
If you own Allen Edmonds shoes, for example, you might balk at paying $250 for a pair — but you can extend that investment by sending your shoes back for repairs.
You can get your shoes reheeled for $50 or opt for them to be "recrafted" for $125 in which your shoes go through a 38-step process including a replaced heel, sole, cork layer under the insoles, welting, laces and a refinished upper.
Red Wing Shoes has its own in-house repair shop and also offers a total repair package that will have your shoes repaired and reconditioned top to bottom for about half the price of a new pair of Red Wings.
Quoddy shoes, boots and slippers start at around $200 and for $99 the company will put a new hand-built sole on them.
Give your jeans and bags a second life
Ripping your favorite jeans feels sad AF. But brands like the Detroit Denim Company offer to make repairs to any brand or type of men's or women's denim.
And although the CEO of Levi's said never to wash your jeans, the Detroit Denim Company says yes, please clean your jeans before sending them in for repairs: "Funky and dirty jeans will be politely refused."
You could also send your well-worn deep-loved jeans to Denim Therapy. The company will repair holes or hems, fix hardware like zippers and even transform your favorite jeans into maternity wear.
Other denim companies like Self Edge jeans and Nudie Jeans offer their own in-house repair services.
And if you just can't part with your jeans (or don't want to wash them) there is the DIY option: Levi's offers tutorials on repairing and customizing your favorites.
As for bags?
With all the wear and tear that luggage and travel cases endure, it can sometimes feel like you're throwing away money on a purchase that won't last.
But if you know which brands to buy, you can lengthen the life of your bag through in-house repair programs. Some of these are free of charge, other companies offer repairs for a charge.
If you have a suitcase by Briggs & Riley, you are able to send in the luggage for repair or damage free of charge, even if it was caused by an airline. The company's lifetime warranty means you can keep on rolling even when the wheels stick or the handle breaks.
Tumi offers repair services through in-person or online services.
Backpack and rucksack companies like JanSport, Osprey and Red Oxx have repair or replace free-of-charge programs. Timbuk2 offers a lifetime guarantee on products purchased through their site or stores.
Duluth Pack offers repairs on the stitching and sewing and the hardware (zippers, rings) of their packs, free of charge.
GoRuck will fix any issue that's their fault free of charge — and they'll repair bags that have such dramatic damage as "burns, gunshot holes, knife slashes, dog attacks, damage from using a washer or dryer to clean the gear, zipper issues from excessive abuse" for a fee.
Choose outerwear with generous return and repair policies
Outdoor clothing companies like L.L. Bean and North Face offer services that push the value of their products beyond what you pay upfront.
At L.L. Bean the accommodating "guaranteed to last" return policy means that if one of its products is not standing up to the task or lasting as long as you think it should, it can be returned.
The North Face offers replacements for products that are not manufactured properly and repairs — for a fee — for damage not covered under the warranty.
Outdoor outfitter Patagonia has been leading the way (and extending its brand narrative) on refurbishing clothes through its Worn Wear program — even picking up an award for its circular business model in Davos, Switzerland.
In a flash of brand brilliance, Patagonia was able to ask people not to buy new clothes while still coming off as reasonably authentic.
Through the Worn Wear program, the company encourages people to reuse and hand down clothes they no longer want and fix those that are broken. Patagonia has a page devoted to tutorials on everything from how to install a new zipper to how to wash a waterproof jacket.
The women's clothing company Eileen Fisher also has a devoted repair program called a Stitch in Time that aims to extend the life of your well-worn Eileen Fisher clothes. Other clothing companies, like Filson, will provide repairs, and Barbour offers to fix its jackets.
Finally, if you have a piece of clothing, not from these brands, that needs fixing, you can send general tailoring and repairs that need to be done to Air Tailor, a text-based alteration company or Rapids Alterations, an online mail-in alteration company.
And if you just can't figure out a way to fix your old clothes, but as Marie Kondo says, they still "spark joy"?
Make them into a bag, blanket or bear.
Sign up for The Payoff — your weekly crash course on how to live your best financial life.