Betsy DeVos: The woman Democrats fear will ruin public schools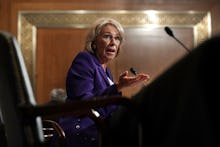 Senators school DeVos
Betsy DeVos wants to run Trump's Department of Education, but Senate Democrats wanted to take her to school. She would not commit to keeping rules in place that pressure schools to address sexual assault. (BuzzFeed) She also dodged a direct question about whether she would keep funds in place for public education. (NBC News) The nominee for secretary of education also refused to say guns should not be allowed in schools. "I'd imagine there's a gun in the school to protect from potential grizzlies," she said about schools in Wyoming where bears had been spotted. A former teacher from one of those schools, though, told Mic guns are not part of being bear-aware. "No firearms in our schools!" the teacher said. "We do have bear spray but have never had a problem that would require using it." (Mic)
DeVos demonstrated confusion about education policy multiple times, including how federal civil rights laws are implemented to guarantee equal education for children with disabilities. (Boston Globe) In a cringeworthy exchange that went viral, DeVos stumbled while answering a question from Democratic Sen. Al Franken about whether students should be measured on growth versus proficiency — a key point of the debate over measuring the effectiveness of schools. DeVos did not seem to know the difference. "It surprises me you do not know this issue," Franken said as she stared at him. "And Mr. Chairman, I think this is a good reason for us to have more questions." (Mic) In another exchange, liberal Massachusetts Sen. Elizabeth Warren pressed the nominee on her personal and professional experience with student loans, since the Education Department oversees all federal student loan programs. DeVos, the daughter of a billionaire who married another billionaire's son, copped to having no relevant experience. (Washington Post)
DeVos was chosen by Trump because of her long record advocating for greater school choice and support of charter schools in Michigan. Those charter schools have been challenged, with many of them performing poorer than their public peers. Republicans like Sen. Lamar Alexander fell over themselves to praise that record. But the confirmation hearing for a woman with no background in public education suggested she lacks a basic understanding of many issues at the heart of education policy. That criticism was predicted by the president of the National Education Association in an interview with Mic shortly before DeVos' hearing. "We worry on so many levels," Lily Eskelsen Garcia said. "And we are urging every senator to reject this nominee."
The Office of Government Ethics has yet to file DeVos' paperwork with the Senate committee that will vote on her confirmation, and with Democrats pushing for another hearing, DeVos may have to answer further questions from senators.
This is Mic's daily read on Donald Trump's America — and how it affects you. Welcome to the political newsletter that was never schooled as hard as Betsy DeVos was on Tuesday. 
Highlights
•  Today: Think education is important? Yeah, us too. That's why Betsy DeVos, the woman likely to oversee American schools, matters.
•  Confirmation hearings: Wednesday's schedule is packed. Trump's nominees to run Health and Human Services, the Environmental Protection Agency and Commerce, as well as his pick for ambassador to the United Nations, will all appear in Senate confirmation hearings.
•  More: The Democratic congressional boycott of Trump's inauguration has grown to nearly 60 members — nearly a third of House Democrats. 
•  Where's Trump? New York City.
•  2 days until Trump is president.
Meanwhile, Ryan Zinke believes in climate change
The headline out of the other, less controversial Tuesday Cabinet hearing was also important: Trump's nominee to lead the Department of the Interior believes in climate change. Ryan Zinke, a congressman from Montana and former Navy SEAL, told senators, "I don't believe it's a hoax." He said would base his understanding of climate change on "objective science." (Politico) The comments are a break from Trump, who has referred to human-driven global warming as a hoax created by the Chinese. Environmental groups didn't support Zinke's nomination, but his hearing ended up being mostly nonconfrontational anyway.
Zinke also said he would not support the sale of public lands and would instead work with states to help them determine how to manage federally owned land. (Los Angeles Times) The comments suggest Zinke believes the federal government must have oversight on operations, like drilling and mining, on the vast swaths of land in the American west controlled by Washington. Zinke has in the past, like the Western Republican senators overseeing his confirmation, supported efforts to reopen federal lands to fossil fuel extraction, like fracking or coal mining.
Today's hearings: There will be fireworks
tktktk
All four confirmation hearings on Wednesday are set to begin at 10 a.m. Eastern. A quick primer on each:
Scott Pruitt, Environmental Protection Agency
There may be no American more opposed to Barack Obama's efforts to fight climate change than Scott Pruitt. The Oklahoma attorney general repeatedly sued Obama's administration over efforts to curb production of fossil fuels and clean up water supplies. Pruitt believes the agency he may lead greatly overstepped its authority in the past eight years. He believes environmental regulations should be implemented primarily at the state level. And Pruitt received hundreds of thousands of dollars in campaign contributions from the fossil fuel industry. The president of the Natural Resources Defense Council recently said Pruitt is the "worst nominee ever tapped" to lead the EPA.
Tom Price, Health and Human Services
One of Washington's leading critics of the Affordable Care Act will get his opportunity to detail how Republicans can repeal and replace Obamacare. As criticism of the GOP heats up, Tom Price will come before the Senate to make the case he can move the American health care system from the current law to a new one. His hearing comes the day after the Congressional Budget Office projected repealing the ACA will cut health insurance for 32 million people. (Mic) And Price will have to explain his differences with Trump on any privatization of Medicare and negotiating drug prices. (CNBC)
Wilbur Ross, Department of Commerce
Another billionaire Trump Cabinet pick, Wilbur Ross, will spearhead Trump's initiative to change American trade policy. Ross has been a critic of deals of U.S. foreign trade deals. But he is expected to tell senators he is "not anti-trade." (Fortune) Ross will also face questions about his substantial wealth accrued by becoming the "king of bankruptcy," a nickname earned for buying failed companies and turning them at a profit. On Tuesday, Ross detailed $336 million he holds in assets as part of a larger $2.9 billion fortune. (Bloomberg)
Nikki Haley, ambassador to the United Nations
The governor of South Carolina will likely get Wednesday's least-controversial hearing. But Nikki Haley could still face tough questioning — and she is expected to make waves with testimony that criticizes the United Nations role in the world. (Washington Post) Democrats are also angling to make Haley answer questions about how she would handle international human rights abuses — something Trump's State Department pick, Rex Tillerson, did not answer to Democrats' satisfaction. (USA Today)
Navigating Trump's America will cover the hearings all week, in this space and at mic.com/navigatingtrumpsamerica.
News and insight you cannot miss:
•  Looks like rain on Inauguration Day. We hope the nice protest posters from the artist who made the iconic Obama "Hope" image — which can be downloaded and printed for free — don't get too soggy. For Saturday's Women's March on Washington, the forecast looks like clouds, maybe even some sun. (Mic) 
•  For all these hearings, Trump is set to take office without most of his Cabinet in place — the slowest pace for filling the top federal positions since 1989. (Politico)
•  Zinke may be less hardline than some of his Republican colleagues, but that doesn't mean the GOP does not have designs on changing federal environmental laws. Republicans are set to roll back parts of the Endangered Species Act to help extraction industries like mining and logging proliferate on federal land. (Associated Press)
•  Republican senators are assuming Trump's "insurance for everybody" comment about health care meant everyone would have access to insurance, not necessarily be required to buy it, as Obamacare mandates. (BuzzFeed) Indeed, Trump modestly walked back that comment on Wednesday morning by telling Axios he wants to make sure poor Americans can find insurance. (Axios) 
•  Another pre-inauguration poll: "Donald Trump least popular new president in at least a generation," according to a new NBC News/Wall Street Journal survey. 
•  The Obama administration has written nearly a thousand pages to bring Trump's staff up to speed on national security concerns. No one is sure whether Trump's staff has read the memos. (New York Times)
•  A woman who says Trump sexually assaulted her in 2007 has filed a defamation lawsuit against the president-elect. (BuzzFeed) 
•  State attorney generals are girding themselves to lead the fight against Trump — by suing his administration if and when it overreaches. (Mic)
•  The view from millennials: Young people of all races expect the U.S. to worsen under Trump. (Mic)
•  Barack Obama all but ended Chelsea Manning's prison sentence Tuesday. Manning has already served more time in prison than any whistleblower in American history, but she will go free in five months. She has struggled to complete her gender transition in prison and has attempted suicide. Manning is known for leaking the documents to Julian Assange that first made WikiLeaks famous. In appeals for Obama to grant Manning clemency, Assange said he would extradite himself to the U.S. if Manning was freed. (Mic)
•  ICYMI: Where are the inauguration demonstrations? Glad you asked. Check out Mic's Swarm the Swamp map to see where everyone from Bikers for Trump to Black Lives Matter protesters will be raising their placards.
Trump was with Vice President-elect Mike Pence in D.C. Tuesday night. Check out their fancy attire: