'Voltron Legendary Defender' Season 2 Release Date: When will new episodes be on Netflix?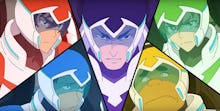 In 2016, DreamWorks Animation teamed with Netflix to bring fans Voltron Legendary Defender, a reboot of the Voltron animated series from the 1980s. The first season consisted of 10 22-minute episodes and one hour-long premiere; it recorded a 100% on Rotten Tomatoes with a 93% score from the site's users. 
Suffice it to say, reception to the first season of Voltron Legendary Defender was considerably positive, suggesting fans of the reboot are ready for more. And they won't have to wait much longer, as season two of Voltron Legendary Defender will be released on Netflix Jan. 20! 
You can check out the trailer for Voltron Legendary Defender's second season below: